ENROLL all the managers
and colleagues of your company
to let them getting access to the
WEEKLY TRAINING SESSION
Is your company member of HRC? Great!
Get your free access to the 660 hours training, every day monday to friday – 10AM/11AM – for you and all your company!
*Copy and share the link of the entire program 2020 to give to all the manager and colleagues of your company the opportunity to enroll to the weekly training sessions.
WEEKS SEPTEMBER-DECEMBER 2020
UNLEASHING PEOPLES POTENTIAL: BRIDGING LANGUAGE TO SOFT SKILLS IN THE TIME OF REMOTE WORKING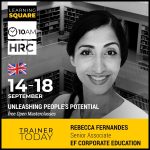 14/09 SAFEGUARDING DIVERSITY FOR AN INCLUSIVE CULTURE
15/09 PITCHES & PRESENTATIONS
16/09 MANAGING REMOTE TEAMS
17/09 CONFLICT MANAGEMENT
18/09 NEGOTIATING ON VALUE
Rebecca Fernandes Senior Associate EF CORPORATE EDUCATION
AGGIORNAMENTO GIUSLAVORISTICO
---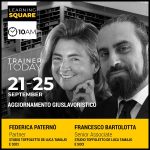 21/09  I PREMI DI RISULTATO E IL WELFARE AZIENDALE
22/09 ORGANIZZAZIONE DEL LAVORO E SMART WORKING
23/09 CASSA INTEGRAZIONE, ALTRI AMMORTIZZATORI SOCIALI E LICENZIAMENTI
24/09 IL CONTRATTO DI LAVORO NELL'ERA DIGITALE 
25/09 DEROGABILITÀ PER VIA DI ACCORDI INDIVIDUALI E/O COLLETTIVI AI VINCOLI DI LEGGE E DI CONTRATTO
Francesco Bartolotta, Associate Partner STUDIO TOFFOLETTO DE LUCA TAMAJO
and other lawyers
WEEK SEPTEMBER 28 OCTOBER 2
"FUTURE READY PARENTS": DALLE SFIDE DIGITAL ALL'ORIENTAMENTO PROFESSIONALE DEI FIGLI
---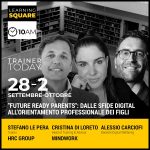 28/09 PARENTS TUTORING: SOFT SKILLS E I TREND DEL MERCATO DEL LAVORO
29/09 DIGITAL PARENTING: COME DIVENTARE UN BUON GENITORE DIGITALE
30/09 PARENTS TUTORING: L'IMPORTANZA DI CONOSCERE SE STESSI
01/10 DIGITAL PARENTING: TECNOLOGIA E DIFFERENZE GENERAZIONALI
02/10 PARENTS TUTORING: LE INFLUENZE DEGLI STILI GENITORIALI SUL FUTURO PROFESSIONALE DEI FIGLI
Stefano Le Pera Trainer HRC GROUP
& other trainers
UPSKILLING WAY: THE SKILLS FOR A NEW AND BETTER WORKING LIFE
---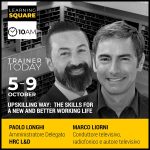 05/10 SMART LEADERSHIP 
06/10 SMART – "AGILITÀ"
07/10 STORYTELLING AI TEMPI DEL COVID 19 
08/10 SAFETY & SECURITY CULTURE
09/10 PURPOSE & VALUE 
Paolo Longhi Amministratore Delegato HRC L&D
& other trainers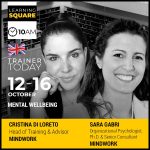 12/10 IL BENESSERE PSICOLOGICO – L'IMPORTANZA DEL WORK-LIFE BALANCE
13/10 DONNE E MAMME: SCOPRIRE LE RISORSE NASCOSTE
14/10 WOMEN AND MOMS: UNCOVERING FORGOTTEN RESOURCES
15/10 RISTRUTTURARE IL GRUPPO: VALORI E MINDSET
16/10 EMPOWERMENT TO RESTART
Cristina Di Loreto Head of Training & Advisor MINDWORK
Sara Gabri Psychologist MINDWORK
PEOPLE PLANET
UN PERCORSO FORMATIVO ORIENTATO AL FUTURO PER SOSTENERE LA #SOCIALGREENRECOVERY E FAVORIRE IL BEN-ESSERE DELLE PERSONE E LA SOSTENIBILITÀ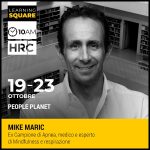 19/10 KEEP CALM & BREATHE
20/10 BENESSERE DIGITALE
21/10 DIGITALIZZARE PER LA SOSTENIBILITÀ SOCIALE E AMBIENTALE
22/10 SENSE@RUN
23/10 HEALTY EATING
Mike Maric Ex Campione di Apnea, medico e esperto di Mindfulness e respirazione
& other trainers
26/10 INTELLIGENZA EMOTIVA E PEOPLE MANAGEMENT
27/10 INTELLIGENZA EMOTIVA E COMUNICAZIONE EFFICACE
28/10 INTELLIGENZA EMOTIVA, NEGOZIAZIONE E VENDITE
29/10 PEOPLE ANALYTICS PER IL CHANGE MANAGEMENT
30/10 INTELLIGENZA EMOTIVA E TALENT DISCLOSE
EQ BIZ BY SIX SECONDS Trainers
"LESS IS MORE": LA SEMPLICITÀ COME MODELLO DI INNOVAZIONE, WELFARE E PRATICA BUSINESS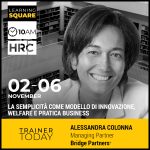 02/11 GOOD SPEAKING IS GOOD THINKING
03/11 COME PASSARE INFORMAZIONI IN MODO EFFICACE
04/11 LE NUOVE REGOLE DEL BUSINESS
05/11 FOG INDEX
06/11 NEGOZIARE E COMPROMESSO
Alessandra Colonna Managing Partner BRIDGE PARTNERS®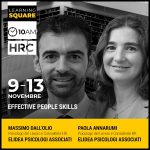 09/11 AGENDA MENTALE: TIME MANAGEMENT ED EFFICACIA PERSONALE
10/11 COSTRUIRE LA FIDUCIA: TECNICHE DI TRASFORMAZIONE DEI CONFLITTI E GESTIONE DELLE CRITICHE
11/11 TROVARE IL PROPRIO CENTRO: GESTIONE DELLO STRESS E DELL'EMOTIVITÀ
12/11 INTELLIGENZA COLLABORATIVA: LAVORO DI SQUADRA E AMBIENTI DIGITALI
13/11 DALLA PARTE DELLE SOLUZIONI: PROBLEM SOLVING IN SITUAZIONI COMPLESSE
Massimo Dall'Olio e Paola Annarumi, Psicologi ELIDEA PSICOLOGI ASSOCIATI
DAL WORKPLACE ALLA WORKSPHERE™
---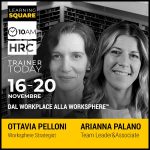 16/11 DAL WORKPLACE ALLA WORKSPHERE™
17/11 DATA DRIVEN WORKSPHERE™
18/11 COME TRASFORMARE IL WORKPLACE IN UNA LEVA DI EMPLOYER BRANDING
19/11 PURPOSE & CONTINUOUS LEARNING
20/11 GENERATIONS @ WORK
Arianna Palano Team Leader&Associate – Trainer IL PRISMA
& other trainers
THE FUTURE OF WORK IN A DIGITALLY ENABLED, REMOTE AND AGILE WORLD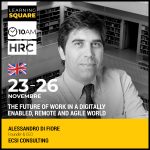 23/11 LEADERSHIP BEHAVIORS
24/11 NEW COMMERCIAL SKILLS AND ORGANIZATIONAL PRACTICES
25/11 ORGANIZATIONAL AGILITY
26/11 INNOVATE CAPABILITY SOURCING
Alessandro Di Fiore Founder & CEO ECSI CONSULTING
& other trainers
WEEK NOVEMBER  30 DECEMBER 4
HR COMPETENCIES IN A DISPERSED & DIGITAL ORGANIZATION
---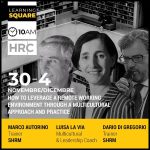 30/11 DEVELOP & CERTIFY HR COMPETENCIES IN LINE WITH THE NEW NORMAL REQUIREMENTS
01/12 LEARNING & DEVELOPMENT IN A DISPERSED & DIGITAL ORGANIZATION
02/12 EVOLUTION OF D&I IN A DISPERSED ORGANIZATION
03/12 DATA DRIVEN CULTURE
04/12 HOW TO LEVERAGE A REMOTE WORKING ENVIRONMENT THROUGH A MULTICULTURAL APPROACH AND PRACTICE
Marco Autorino Trainer SHRM
& other trainers
WEEKS SEPTEMBER-DECEMBER 2020 – DETAILS DAY BY DAY –