DAL WORKPLACE ALLA WORKSPHERE™
*Copy and share the link to give to all the manager and colleagues of your company the opportunity to enroll to the weekly training sessions.
NOVEMBER 16-20 from 10AM to 11AM – DAL WORKPLACE ALLA WORKSPHERE™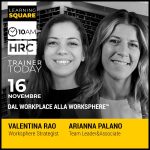 DAL WORKPLACE ALLA WORKSPHERE™
Come si è trasformato il modo di lavorare oggi e di conseguenza lo spazio di lavoro? Come sta cambiando a seguito del Covid 19? Ipotesi futuribili per un domani non troppo distante con esempi e racconti di progetti realizzati.
Valentina Rao Worksphere Strategist
Arianna Palano Team Leader&Associate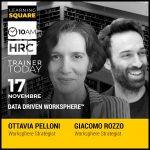 DATA DRIVEN WORKSPHERE™
La crescente digitalizzazione della Worksphere ™porta con sé una naturale e continua datificazione del nostro lavoro (e del nostro vissuto). Quali opportunità offre questo fluido archivio di informazioni? Partendo da una approfondita analisi del cliente, strutturando dei percorsi totalmente customizzati, proviamo a capire come queste informazioni possano aiutare a generare innovazione ed esperienze memorabili.
Giacomo Rozzo Worksphere Strategist
Ottavia Pelloni Worksphere Strategist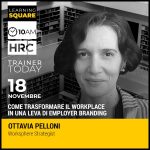 COME TRASFORMARE IL WORKPLACE IN UNA LEVA DI EMPLOYER BRANDING
Con quali esperienze e touch point fisici è possibile diffondere la corporate culture nello spazio fisico? Environmental branding e experience design diventano leve per raccontare l'identità dell'azienza e delle persone che ne fanno parte. Non esiste un percorso uguale per tutti, ma il progetto finale è frutto di un processo di progettazione condiviso il cui output è sempre qualcosa di unico e assolutamente non standardizzato.
Ottavia Pelloni Worksphere Strategist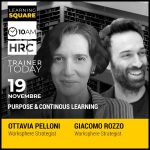 PURPOSE & CONTINUOUS LEARNING
Focus su come gli spazi possono promuovere il "purpose" delle persone nel lavoro: "continuous learning".
Giacomo Rozzo Worksphere Strategist
Ottavia Pelloni Worksphere Strategist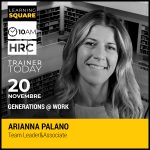 GENERATIONS @ WORK
Baby boomers, Gen Y, Millennials, Gen Z: queste sono solo buzz words oppure definiscono davvero profili di lavoratori con comportamenti e aspettative differenti? Oltre a quella generazionale, quali sono le diversità da accogliere e gestire per creare un ambiente di lavoro di successo?
Arianna Palano Team Leader&Associate