NOVEMBER 30th – DECEMBER 4th
HR COMPETENCIES IN A DISPERSED & DIGITAL ORGANIZATION
*Copy and share the link to give to all the manager and colleagues of your company the opportunity to enroll to the weekly training sessions.
NOVEMBER 30th – DECEMBER 4th / 10am-11am – HR COMPETENCIES IN A DISPERSED & DIGITAL ORGANIZATION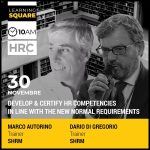 DEVELOP & CERTIFY HR COMPETENCIES IN LINE WITH THE NEW NORMAL REQUIREMENTS
Come stabilito dalla nuova norma, la Certificazione Professionale è fondamentale a livello internazionale e lo sta diventando sempre più anche in Italia. La Certificazione HR SHRM rappresenta la certificazione più importante e conosciuta al mondo. Durante questa sessione sarà presentata come un'opportunità per tutti i Professionisti HR per migliorare le proprie competenze e conoscenze.
Marco Autorino Trainer SHRM
Dario Di Gregorio Trainer SHRM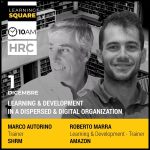 LEARNING & DEVELOPMENT IN A DISPERSED & DIGITAL ORGANIZATION
Lavoro da remoto, organizzazione dispersa e digitalizzazione: sono alcuni dei i principali fattori che influenzano l'ambiente lavorativo post COVID19. Come si stanno organizzando le aziende per fronteggiare queste sfide? Organizzazioni professionali internazionali come SHRM come assistono le aziende italiane durante il processo di conformazione dei propri modelli alle nuove tendenze?
Marco Autorino Trainer SHRM
Roberto Marra Learning & Development – Trainer AMAZON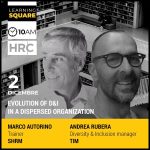 EVOLUTION OF D&I IN A DISPERSED ORGANIZATION
L'organizzazione dispersa sta creando nuove opportunità e applicazioni dei principi e delle strategie di D&I: divario digitale, lavoratori in presenza vs lavoratori a distanza, ecc. Nuove esclusioni e nuovi pregiudizi da gestire.
Marco Autorino Trainer SHRM
Andrea Rubera Diversity & Inclusion manager TIM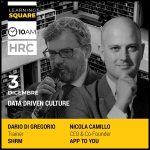 DATA DRIVEN CULTURE
Il ruolo delle Risorse Umane nella creazione di una cultura data-driven volta ad ottimizzare l'impatto aziendale nell'organizzazione e nell'ecosistema.
Dario Di Gregorio Trainer SHRM
Nicola Camillo CEO & Co-Founder APP TO YOU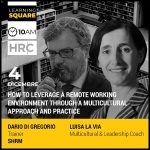 HOW TO LEVERAGE A REMOTE WORKING ENVIRONMENT THROUGH A MULTICULTURAL APPROACH AND PRACTICE
Le organizzazioni di successo sono modellate per essere sempre più interculturali e accrescere la diversità delle proprie risorse. In questa sessione esploreremo come costruire e gestire un ambiente aziendale interculturale di successo.
Dario Di Gregorio Trainer SHRM
Luisa La Via Multicultural & Leadership Coach