AGGIORNAMENTO GIUSLAVORISTICO
*Copy and share the link to give to all the manager and colleagues of your company the opportunity to enroll to the weekly training sessions.
SEPTEMBER 21st – 25th from 10AM to 11AM – AGGIORNAMENTO GIUSLAVORISTICO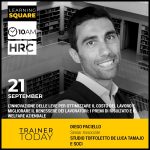 L'INNOVAZIONE DELLE LEVE PER OTTIMIZZARE IL COSTO DEL LAVORO E MIGLIORARE IL BENESSERE DEI LAVORATORI: I PREMI DI RISULTATO E IL WELFARE AZIENDALE
L'emergenza sanitaria ha mutando le abitudini e il concetto di benessere delle persone e la crisi economica in corso e il massiccio ricorso al lavoro da remoto metteranno in discussione tutti i sistemi incentivanti delle aziende, inclusi i premi di risultato. Analizzeremo nel corso del webinar le problematiche emerse e le possibili soluzioni di ristrutturazione dei piani welfare esistenti, anche per i dipendenti in uscita, nonché dei premi di risultato, anche alla luce dei più recenti interventi dell'Agenzia delle Entrate.
Diego Paciello Senior Associate STUDIO TOFFOLETTO DE LUCA TAMAJO E SOCI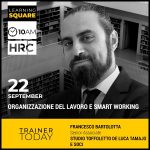 ORGANIZZAZIONE DEL LAVORO E SMART WORKING
Durante il periodo di lock-down si è parlato impropriamente di quello che abbiamo vissuto come "smart working". Lo smart working è infatti un modello gestionale che presuppone fiducia nei dipendenti e, soprattutto, la pre-determinazione ed il raggiungimento di obiettivi e risultati senza rigidi vincoli di orario e di luogo di lavoro. Nello scenario futuro lo smart working assurgerà sempre di più il ruolo di nuovo modello organizzativo aziendale, con conseguente necessità di una regolamentazione del rapporto.
Francesco Bartolotta Senior Associate STUDIO TOFFOLETTO DE LUCA TAMAJO E SOCI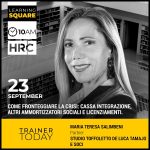 COME FRONTEGGIARE LA CRISI: CASSA INTEGRAZIONE, ALTRI AMMORTIZZATORI SOCIALI E LICENZIAMENTI
Gli strumenti che il legislatore predispone per il superamento o la definizione delle crisi aziendali sono storicamente la cassa integrazione guadagni e i licenziamenti collettivi l'accesso ai quali è consentito previa realizzazione di presupposti stabiliti con rigore e il cui accertamento è demandato al controllo sindacale e giudiziale. Saper scegliere e gestire concretamente, e al meglio, questi complessi istituti, tra l'altro soggetti a frequenti modifiche normative, è fondamentale e talvolta vitale per le aziende e lo scopo del seminario è fornire le adeguate istruzioni per un uso degli stessi ben tarato sulle diverse situazioni e sicuro negli esiti.
Maria Teresa Salimbeni Partner STUDIO TOFFOLETTO DE LUCA TAMAJO E SOCI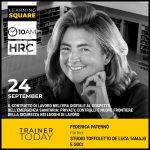 IL CONTRATTO DI LAVORO NELL'ERA DIGITALE AL COSPETTO DELL'EMERGENZA SANITARIA: PRIVACY, CONTROLLI E NUOVE FRONTIERE DELLA SICUREZZA NEI LUOGHI DI LAVORO
Verrà affrontato il tema dei controlli automatizzati tra limiti e nuove aperture normative, focalizzandosi oltre che sul tema, sempre attuale, dei limiti al monitoraggio sull'attività dei lavoratori e sui modi di esecuzione della prestazione anche nella prospettiva del GDPR e della conseguente tutela della privacy, sulle nuove esigenze ed opportunità poste dall'emergenza sanitaria. Come è noto, infatti, la necessità di monitorare ad horas la salute dei lavoratori per prevenire i contagi ha aperto nuovi scenari e posto le aziende dinanzi a scelte difficili alla ricerca di inediti equilibri tra tutele collettive e rispetto della sfera personale del lavoratore. Il focus sarà, quindi, incentrato sulle prospettive dei controlli post emergenza e sulla lezione che da questa può essere tratta per progettare nuove formule organizzative in coerenza con il sistema di regole fondamentali indicate dall'ordinamento.
Federica Paternò Partner STUDIO TOFFOLETTO DE LUCA TAMAJO E SOCI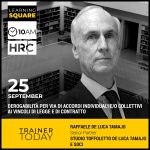 DEROGABILITÀ PER VIA DI ACCORDI INDIVIDUALI E/O COLLETTIVI AI VINCOLI DI LEGGE E DI CONTRATTO
La tradizionale rigidita' delle tutele del lavoro subordinato ha trovato, specie nell'ultimo decennio, una attenuazione sia in virtù di singole previsioni legislative che autorizzano di volta in volta interventi della autonomia collettiva o individuale in deroga alle normative legali e sia in forza della l. n. 148/2011 che con disposizione di carattere generale accorda ai contratti di prossimità' una ampia facolta'derogatoria di leggi e di contratti collettivi. Il Webinar toccherà' in chiave esemplificativa vari aspetti della flessibilizzazione del corposo apparato normativo del nostro Paese.
Raffaele De Luca Tamajo Senior Partner STUDIO TOFFOLETTO DE LUCA TAMAJO E SOCI