*Copy and share the link to give to all the manager and colleagues of your company the opportunity to enroll to the weekly training sessions.
OCTOBER 12th – 16th / 10am-11am – MENTAL WELLBEING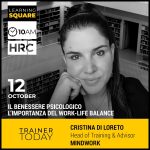 IL BENESSERE PSICOLOGICO – L'IMPORTANZA DEL WORK-LIFE BALANCE
Parliamo spesso di benessere psicologico, di crescita personale, di empowerment. Cosa significa stare bene? Quanto conta nello stare bene un buon bilanciamento tra vita privata, piacere e soddisfazione lavorativa? Ne parliamo in questo webinar che offrirà ai partecipanti stimoli di riflessione ma anche qualche esercizio pratico.
Cristina Di Loreto
Head of Training & Advisor
MINDWORK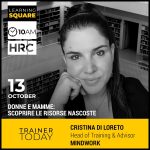 DONNE E MAMME: SCOPRIRE LE RISORSE NASCOSTE
Il benessere mentale richiede impegno, sforzo e attenzione. L'emergenza che abbiamo e stiamo affrontato ha impattato in misura maggiore sulle donne probabilmente a causa del doppio ruolo di lavoratrici e care giver. In questo webinar affrontiamo questo delicato tema proponendo suggerimenti pratici per riattivare risorse e capacità che in alcuni momenti potrebbero sembrare dimenticate.
Cristina Di Loreto
Head of Training & Advisor
MINDWORK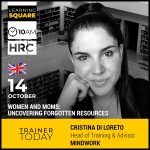 WOMEN AND MOMS: UNCOVERING FORGOTTEN RESOURCES
Mental wellbeing requires engagement, effort and attention. The emergency we faced affected women more then men, probably for their double role of workers and care givers. In this webinar we face this topic giving some practical tips to reactivate resources and skills that sometimes seems forgotten.
Cristina Di Loreto
Head of Training & Advisor
MINDWORK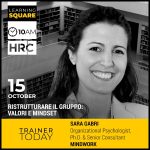 RISTRUTTURARE IL GRUPPO: VALORI E MINDSET
Nel bel mezzo dell'emergenza, i colleghi sono stati sostituiti da familiari o coinquilini, con i quali sono state condivise postazioni di lavoro e routine. Con forme ibride di lavoro, tra lavoro a distanza e lavoro in ufficio, le cose si sono complicate, al punto da rendere incerta la propria posizione. È necessario recuperare dinamiche efficaci, riorganizzare i gruppi e trovare nuove soluzioni. Come declinare i valori aziendali in un contesto che cambia, spesso in modo repentino? Questo webinar analizza le strategie efficaci per creare e rimodellare una mentalità condivisa, individuando gli strumenti utili per gestire le dinamiche di gruppo anche da remoto.
Sara Gabri
Organizational Psychologist, Ph.D. & Senior Consultant
MINDWORK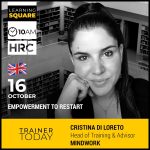 EMPOWERMENT TO RESTART
We think that a good way to close this path would have been with a new start. In the past months we lived the covid emergency, the second phase, the reopening that in certain cases was too fast in other is still very slow. Self empowerment is the first step to be equipped to restart. Discover with us some useful strategies to cope with this or other challenges.
the opening of an entire week dedicated to mental health.
the opening of an entire week dedicated to mental he
Cristina Di Loreto
Head of Training & Advisor
MINDWORK