THE FUTURE OF WORK IN A DIGITALLY ENABLED, REMOTE AND AGILE WORLD
*Copy and share the link to give to all the manager and colleagues of your company the opportunity to enroll to the weekly training sessions.
NOVEMBER 23th – 26th / 10am-11am – THE FUTURE OF WORK IN A DIGITALLY ENABLED, REMOTE AND AGILE WORLD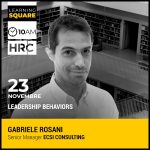 LEADERSHIP BEHAVIORS
Costruire un'organizzazione più dinamica e innovativa richiede un profondo cambiamento di paradigma a livello di leadership. Il presente approccio è basato sui "5 Paradoxes of Leadership Behaviors" (Tolleranza per il fallimento ma Intolleranza per l'Incompetenza; Volontà di Sperimentare ma in Modo Fortemente Disciplinato; Sicurezza Psicologica ma Brutalmente Schietta; Collaborativo ma Individualmente Accoutable; Empowered ma con Forte Leadership). È indispensabile cominciare con un nuovo "contratto sociale" tra un ampio numero di leader. Il contratto sociale viene poi implementato facendo leva su di un set di di leve ben testate, le quali aiutano i leader a soddisfare il nuovo contratto sociale, a comunicare, a sostenere e a incorporare i nuovi comportamenti nella più estesa organizzazione.
Gabriele Rosani Senior Manager ECSI CONSULTING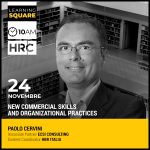 NEW COMMERCIAL SKILLS AND ORGANIZATIONAL PRACTICES
Nell'attuale pandemia, molti sales si trovano ancora bloccati in un metodo di lavoro tradizionale. La loro sfida consiste nella capacità di generare una comunicazione digitale con il cliente che sia continuativa, profonda ed empatica. L'ascolto attivo e le domande mirate diventano più importanti che mai. Anche le pratiche organizzative hanno bisogno di evolvere: team agile e cross-functional possono effettivamente integrare il tradizionale approccio del Key Account Management. La performance commerciale dell'intera azienda ne beneficerà.
PAOLO CERVINI Associate Partner ECSI CONSULTING; Content Coordinator HBR ITALIA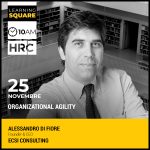 ORGANIZATIONAL AGILITY
Nel XX secolo, il focus organizzativo era su dimensioni, efficienza ed economie di scala. Lo zenith di ciò era il concetto di "zero defects", una delle grandi idee del management dell'ultima frazione di secolo. Non dovrebbe essere abbandonato, ma il tempo va avanti, e così dovrebbero fare le best practice organizzative. Siamo passati dall'era della zero defects a quella che Zhang Ruimin, CEO dell'azienda cinese Haier, chiama "zero distance". Per raggiungere una distanza zero con i vostri clienti interni ed esterni è necessario un differente tipo di organizzazione: uno che sia fondamentalmente agile nel suo modo di pensare e nel suo agire; che abbia la volontà e la capacità di cambiare quando il mercato lo richiede. L'agilità è il nuovo benchmark organizzativo.
Alessandro Di Fiore Founder & CEO ECSI CONSULTING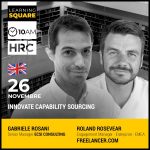 INNOVATE CAPABILITY SOURCING
The focus is on the freelance economy and its impressive growth over the last 5 years. Large enterprises should not overlook this channel of capability sourcing, particularly for the sough-after digital skills. The benefits, based on global benchmarking analysis, are significant: Speed/Agility – Faster way to contract developers and IT freelancers, in contrast to the multiple calls, meetings, and RFPs required to get a project started with a vendor (freelancers can be enrolled in 3-5 days); Access – Tapping a global digital talent pool allows access to find highly specialized skills with shortage in the labor market; Reduce Variable Costs – Up to 30-40% savings relative to conventional vendor billing rates with the same productivity. Unfortunately, only few large enterprises know how to tap into this global pool of talents and how to work with them. We can learn from few pioneers.
Gabriele Rosani Senior Manager ECSI CONSULTING
Roland Rosevear Engagement Manager – Enterprise – EMEA FREELANCER.COM