*Copy and share the link to give to all the manager and colleagues of your company the opportunity to enroll to the weekly training sessions.
OCTOBER 19th -23th from 10AM to 11AM

– 

PEOPLE PLANET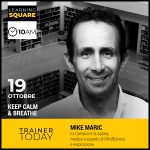 KEEP CALM & BREATHE
Quale Maestro migliore che un campione del Mondo di Apnea, per imparare i segreti della respirazione? La respirazione è uno strumento straordinario che ha un grande vantaggio: anche se è spontanea, possiamo utilizzarla volontariamente per gestire lo stress e recuperare il nostro benessere. Mike Maric ci guiderà alla scoperta della scienza del respiro, per mettere in pratica le tecniche utili a ripristinare uno stato psicofisico ottimale partendo dall'ascolto consapevole del nostro corpo.
Mike Maric
Ex Campione di Apnea, medico e esperto di Mindfulness e respirazione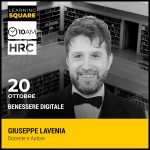 BENESSERE DIGITALE
Anche tu appena sveglio allunghi le braccia al comodino per prendere lo smartphone? Nell'era dell'informazione è fondamentarle cercare l'equilibrio con i device ai quali tutti i giorni siamo iper esposti e che ci trasportano nell'era della distrazione. Il confine tra multitasking e inproduttività è veramente sottile; saper lavorare in modo focused è l'abilità del 21esimo secolo. Come fare? Lo scopriremo in compagnia di Giuseppe Lavenia, esperto di Digital Wellbeing che con un coinvolgimento a 360 gradi, ci trasporterà in modalità focused.
Giuseppe Lavenia
Docente e Autore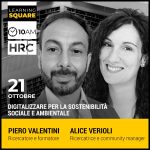 DIGITALIZZARE PER LA SOSTENIBILITÀ SOCIALE E AMBIENTALE
Stiamo imparando molto rapidamente che il nostro benessere è strettamente legato a quello della nostra Terra. Uno spettacolo unico per affrontare in maniera scientifica e divertente i temi dell'ambiente, dell'ecologia, dell'inquinamento, dei cambiamenti climatici, dell'acqua, dei rifiuti dell'energia e molto altro ancora. I driver di Agenda 2030 e dei 17 Obiettivi ONU ai quali tutti siamo chiamati a contribuire per guidare il nostro futuro e quello delle nuove generazioni.
Piero Valentini
Ricercatore e  Formatore
Alice Verioli
Ricercatrice e community manager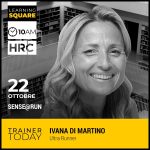 SENSE@RUN
La corsa è uno sport completo perchè coinvolge la persona nella sua integrità, a pieno titolo con tutti i sensi! Uno strumento sostenibile e flessibile che favorisce la forma fisica, aiuta il cuore e migliora l'umore. In compagnia di Ivana Di Martino Ultramaratoneta, Coach e Scrittrice, toccheremo con mano i benefici della corsa attraverso esercizi fisici e mentali che incontrano le corde dell'automotivazione, della sfida e del benessere psicofisico e ci permettono di evitare un rischio imminente dei nostri tempi: la sedentarietà.
Ivana Di Martino
Ultra Runner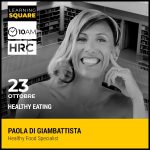 HEALTHY EATING
La cucina è, oltre che una grande metafora formativa, l'energia del proprio benessere. Un benessere che possiamo costruire con le nostre mani, a casa, in modo semplice e veloce. Paola Di Gianbattista, Chef esperta di nutrizione, ci coinvolgerà attivamente nel creare Energy finger food: un concentrato di nutrienti, sia dolci che salati, utili per ritrovare rapidamente forza e concentrazione. Il tutto condito dei principi chiave dell'alimentazione sana e sostenibile.
Paola Di Giambattista
Healthy Food Specialist