the more you learn, the more you earn
ENROLL all the management
and employees of your company
to allow them access to the
WEEKLY TRAINING SESSION
Is your company member of HRC? Great!
Get your free access to the 660 hours training, every day monday to thursday – 10AM/11AM – for you and all your company!
*Copy and share the link of the entire program 2020 to give the managers and colleagues of your company the opportunity to enroll to the weekly training sessions.
WEEKS APRIL – OCTOBER 2021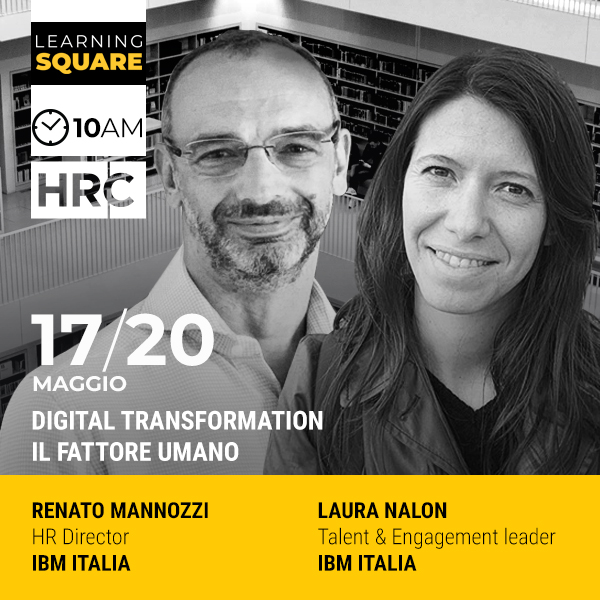 17/05 IL TUO SVILUPPO PROFESSIONALE È INTENZIONALE O ACCIDENTALE?
18/05 REINVENTARE LA PROPRIA AZIENDA: TUTTA UNA QUESTIONE DI CO-CREAZIONE, TRASPARENZA, AUTENTICITÀ E INCLUSIONE
19/05 TRASFORMARE L'ORGANIZZAZIONE E IL MODO DI LAVORARE GRAZIE A UN HR 3.0. CASO DI STUDIO: LA TRASFORMAZIONE AGILE DI IBM BASATA SU TALENTO, SPIRITO E OBIETTIVO
20/05 I ROBOT E L'INTELLIGENZA ARTIFICIALE POSSONO TRASFORMARE IL NOSTRO LAVORO? COME COSTRUIRE UNA PARTNERSHIP TRA L'UOMO E LA TECNOLOGIA
LA RIPRESA PRODUTTIVA, LA GESTIONE DEI RAPPORTI DI LAVORO E GLI STRUMENTI DI FLESSIBILITÀ: CASI PRATICI E SOLUZIONI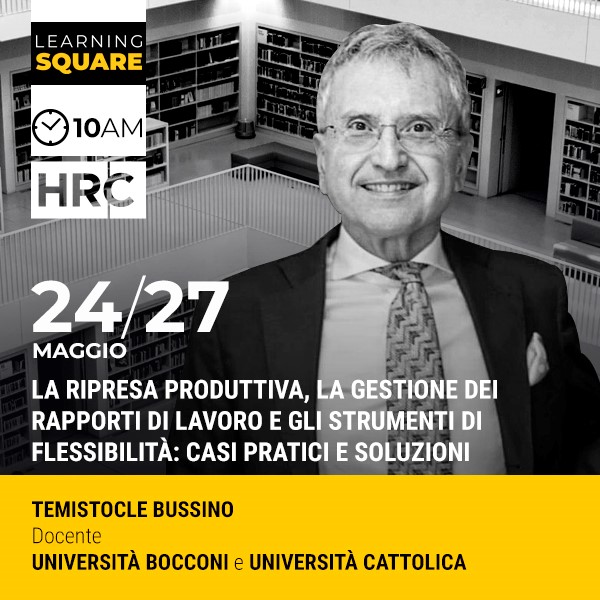 24/05 LA FLESSIBILITÀ DEI RAPPORTI DI LAVORO IN AZIENDA: UTILIZZO DI PARTICOLARI CLAUSOLE NEI CONTRATTI INDIVIDUALI, GESTIONE DELL'ORARIO DI LAVORO, SCELTA TRA LE AGEVOLAZIONI CONTRIBUTIVE  PER IL 2021
25/05 POLITICHE RETRIBUTIVE TRA FRINGE BENEFITS E ACCORDI SULLA DETASSAZIONE E DECONTRIBUZIONE DEI PREMI E DEL WELFARE AZIENDALE
26/05 APPALTI, TRASFERTE, DISTACCHI IN ITALIA E ALL'ESTERO: SU COSA FARE ATTENZIONE
27/05 STRUMENTI ''INDOLORI'' NELLA GESTIONE DEGLI ESUBERI: TRANSAZIONI , CONCILIAZIONI , SISTEMA PENSIONISTICO  PER IL 2021
MANAGING BY GENERATION – COME ADATTARE LO STILE DI GESTIONE E FAVORIRE L'INTEGRAZIONE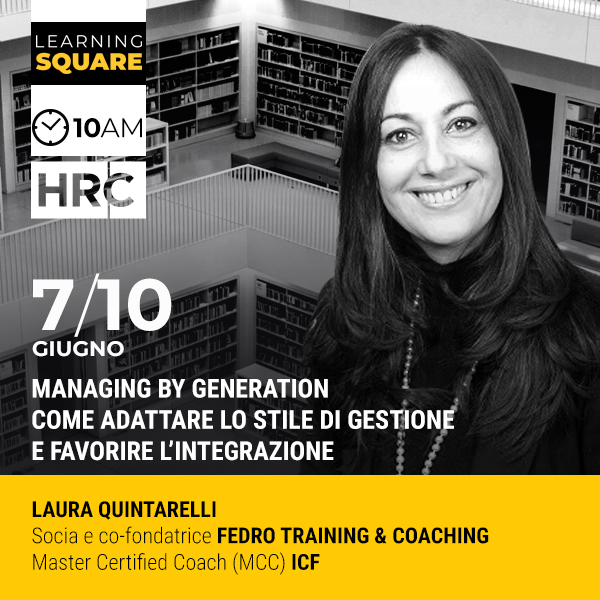 07/06 TRATTI GENERAZIONALI O TRATTI PERSONALI?
08/06 I SEGRETI NON ESISTONO – IL TEMPO È CAMBIATO
09/06 LA SINDROME DEL PRINCIPE CARLO
10/06 PERCHÉ È INUTILE CERCARE L'ENGAGEMENT IN SENSO TRADIZIONALE CON LE NUOVE GENERAZIONI
AFFRONTARE IL CAMBIAMENTO PER COSTRUIRE NUOVI EQUILIBRI INDIVIDUALI E NELLE ORGANIZZAZIONI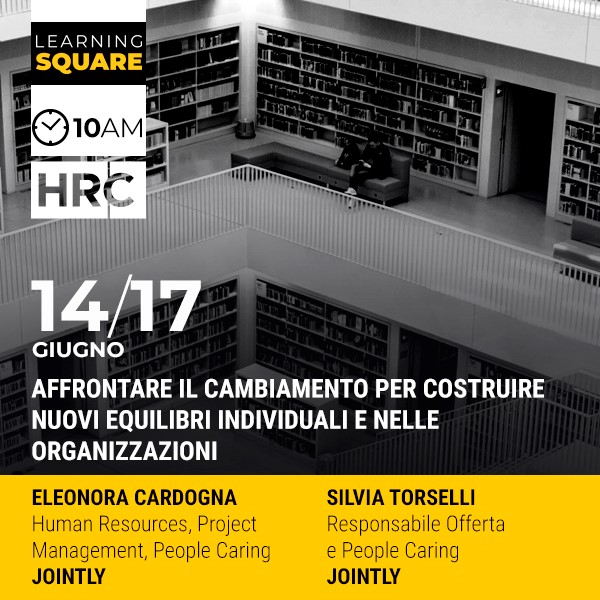 14/06 SELF LEADERSHIP: COME GLI ERRORI POSSONO AIUTARCI A DIVENTARE LA MIGLIORE VERSIONE DI NOI STESSI
15/06 TEAM DIFFUSO: IMPARIAMO UN NUOVO MODO DI INTERAGIRE, TRA TECNOLOGIA E RELAZIONI
16/06 BENESSERE FISICO E CORRETTA ALIMENTAZIONE IN TEMPI DI SMARTWORKING
17/06 UN "NUOVO INIZIO" PER LE PERSONE E PER LE AZIENDE. COME RIPENSARE COMPORTAMENTI INDIVIDUALI E MODELLI ORGANIZZATIVI
JOINTLY – IL WELFARE CONDIVISO
IL "NEW NORMAL" AL LAVORO*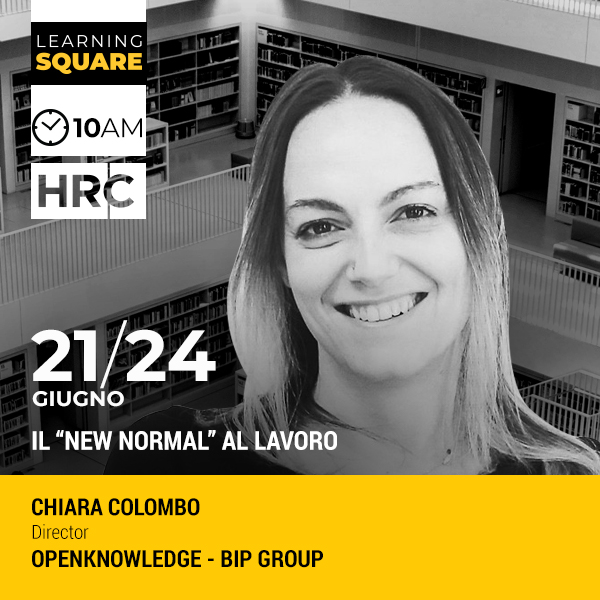 21/06 TECNOLOGIA AL SERVIZIO DELL'EMPLOYEE EXPERIENCE
22/06 LEADERSHIP & EMPOWERMENT: LA PERSONA AL CENTRO
23/06 SPAZIO FISICO E VIRTUALE: UN RINNOVATO PARADIGMA PHYGITAL
24/06 LA COMUNICAZIONE INTERNA COME ABILITATORE DI EMPATIA ORGANIZZATIVA
"FUTURE READY PARENTS":DALLE SFIDE DIGITAL ALL'ORIENTAMENTO PROFESSIONALE DEI FIGLI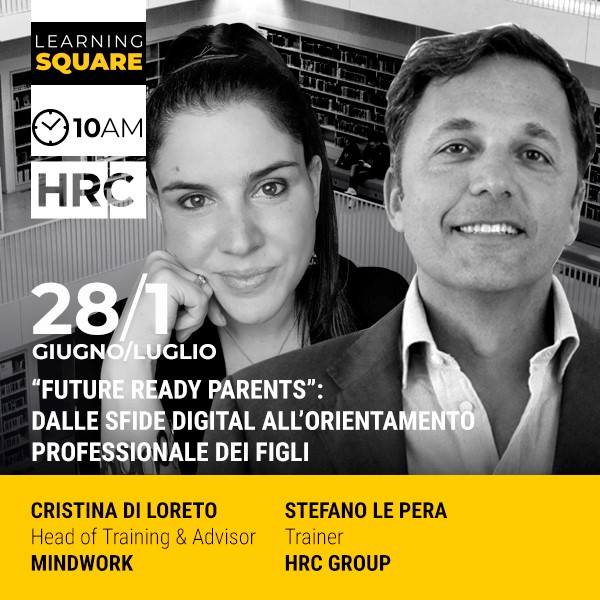 28/06 PARENTS TUTORING: LE INFLUENZE DEGLI STILI GENITORIALI SUL FUTURO PROFESSIONALE DEI FIGLI
29/06 DIGITAL PARENTING: COME DIVENTARE UN BUON GENITORE DIGITALE
30/06 DIGITAL PARENTING: TECNOLOGIA E DIFFERENZE GENERAZIONALI
01/07 PARENTS TUTORING: SOFT SKILLS E I TREND DEL MERCATO DEL LAVORO
PER GENERARE VALORE DA INTERNET, NON BISOGNA (SOLO) USARE LA RETE, BISOGNA ESSERE PARTE DELLA RETE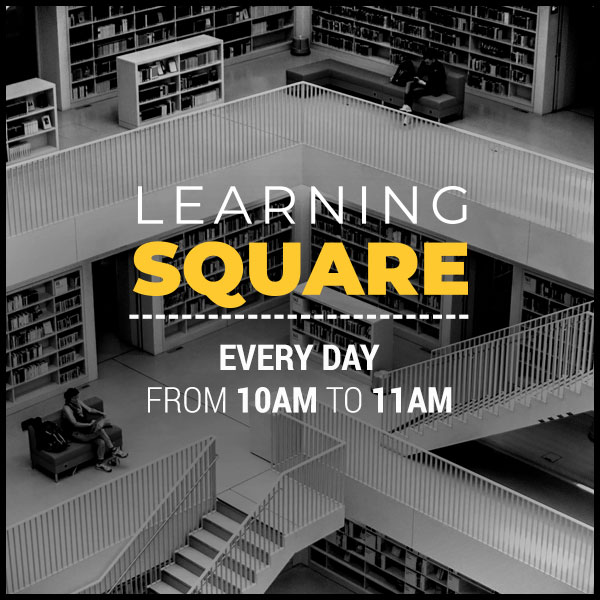 12/04 DIGITAL MINDSET E SOFT SKILL PER VIVERE E LAVORARE COL DIGITALE
13/04 LA PROPRIA IDENTITÀ DIGITALE È IL MODERNO BIGLIETTO DA VISITA

14/04 IL DIGITALE PER VENDERE DI PIÙ E MEGLIO
15/04 IL RUOLO DEI CONTENUTI ONLINE NELLA RELAZIONE CON I CLIENTI
DIGITAKBREAK GRUPPO ALECSANDRIA COMUNICAZIONI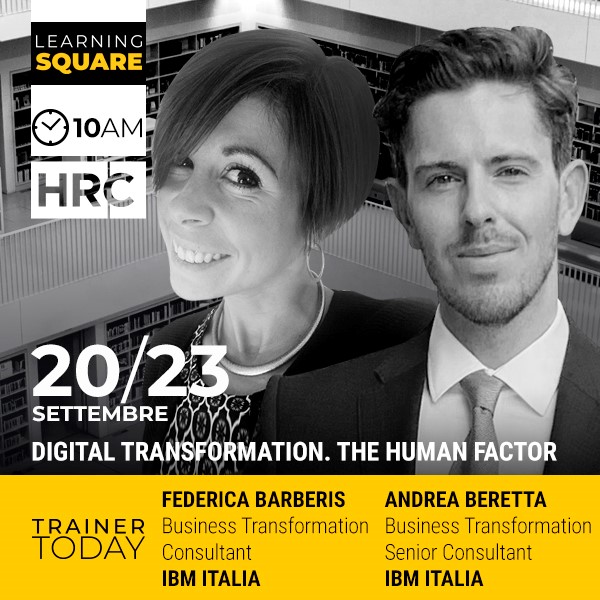 20/09 IS YOUR CAREER DEVELOPMENT ACCIDENTAL OR INTENTIONAL? 
21/09 BUSINESS REINVENTION IS ALL ABOUT CO-CREATION, TRANSPARENCY, AUTHENTICITY AND INCLUSION
22/09 TRANSFORMING YOUR ORGANIZATION AND YOUR WAY OF WORKING WITH HR 3.0. A CASE STUDY: THE IBM'S AGILE TRANSFORMATION JOURNEY BASED ON TALENT, SPIRIT AND PURPOSE
23/09 CAN ROBOTS AND AI TRANSFORM OUR JOBS? HOW TO BUILD THE HUMAN-TECH PARTNERSHIP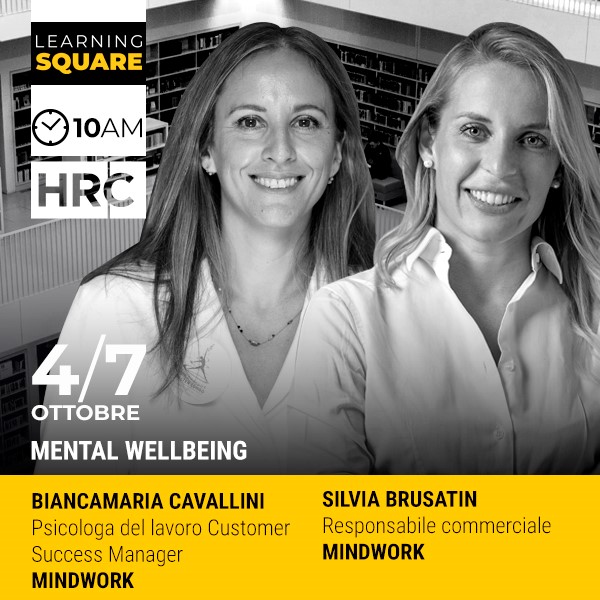 04/10 WORK-LIFE MENTAL WELLBEING
05/10 WOMEN AND MOMS: UNCOVERING FORGOTTEN RESOURCES
06/10 EMOTIONAL INTELLIGENCE: THE RECIPE FOR COLLABORATION
07/10 FLEXIBILTY: HOW TO DEAL WITH UNCERTAINTY
FINANZIABILITÀ&SOSTENIBILITÀ PER L'EVOLUZIONE DELLE PERSONE IN AZIENDA – #NonFermartiIniziaAFormarti #PeoplePlanet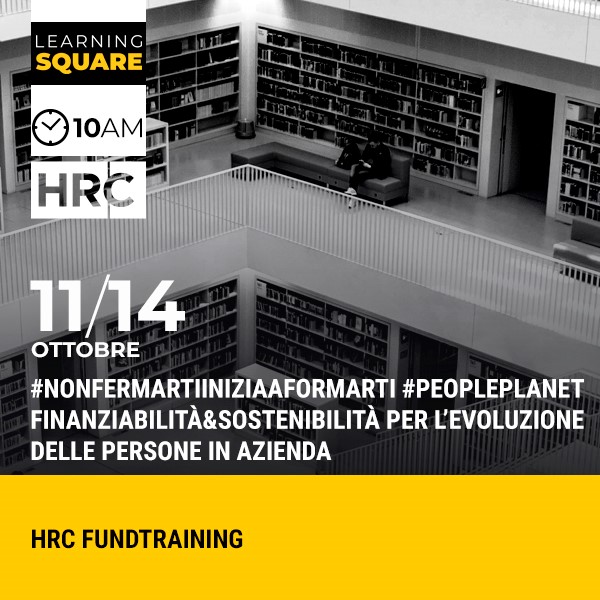 11/10 LO SMARTWORKING S'IMPROVVISA? DEFINIZIONI, SFIDE, PROBLEMATICHE E POSSIBILITÀ
12/10 EMOTIONAL SAFETY: LA SICUREZZA EMOTIVA A LAVORO

13/10 #NonFermartiIniziaAFormarti: FORMAZIONE FINANZIATA FRA BUROCRAZIA E REALI OPPORTUNITÀ
14/10 LA CERTIFICAZIONE DEL CSR MANAGER: LINEE GUIDA UNI E VANTAGGI DELLA CERTIFICAZIONE