*Copy and share the link to give to all the manager and colleagues of your company the opportunity to enroll to the weekly training sessions.
NOVEMBER 15 – 18 / 10am-11am – EMOTIONAL INTELLIGENCE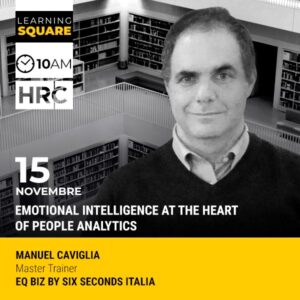 EMOTIONAL INTELLIGENCE AT THE HEART OF PEOPLE ANALYTICS
We are living in a time of Volatility, uncertainty, complexity, and ambiguity (VUCA Times). Stress is rising. Change is accelerating. Technological innovation increases exponentially by widening the gap between technology and corporate culture, the so-called "Digital Gap". What do we need besides technical skills to fulfill this gap? What do organizations need to see that new challenges could be big opportunities? What do they actually need to transform them into opportunities? It's good focusing on tech skills, processes but we also really need to start focusing more on people. People use technology, people act on processes…Humans are the cause…They are not the effect. Organizations need more elements to work on people's growth increasing their Self Awareness, Self-Management and give a clear direction. Markets and business indications advise as a strategic element to insert the emotional intelligence's culture inside the organizations, for better engagement, collaboration, people performance and company results. On this webinar, our goal is to give the organizations the opportunity to bring people analytics capabilities for real empowerment of Human Capital using the dynamism, trainability, and measurability of Six Seconds EQ model.
MANUEL CAVIGLIA Master Trainer EQ BIZ BY SIX SECONDS ITALIA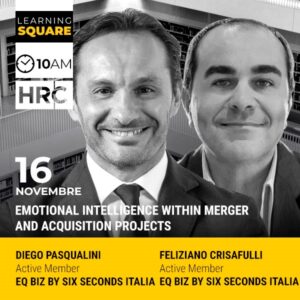 EMOTIONAL INTELLIGENCE WITHIN MERGER AND ACQUISITION PROJECTS
SCOPE, TOOLS, AND THE BOOST OF COMMUNICATION IN INFLUENCING THE SUCCESS
A crucial part of the change map is managing communication to positively and intentionally influence people's opinions or behaviors. The context of M&A's is made up of complexity, interactions between people with different mental patterns and goals, and overabundance of new information and requests, so thinking in a structured way about how to influence is fundamental. Influence is related to energy, that moves people toward a new outcome, which can be Push, when you drive an individual to go in a delineated direction and somehow "transmit" them energy or it can be Pull, when creating the conditions for the counterparts to "generate" their own energy. These energies can activate or make people reflect and are related to four different styles of influence: Persuasion, Assertiveness, Connection and Vision. In such a complicated context as M&A it is useful to know how to intentionally use all styles because they also respond to different emotional needs. Are we more or less inclined to a style? Usually yes, our brain tends to have a preference in processing information and emotions, a fundamental activity when we need to influence others, as the Six Seconds model explains. Understanding which styles of influence are preferred can help leaders consciously avoid the trap of using them in incorrect contexts.
DIEGO PASQUALINI Active Member EQ BIZ BY SIX SECONDS ITALIA
FELIZIANO CRISAFULLI Active Member EQ BIZ BY SIX SECONDS ITALIA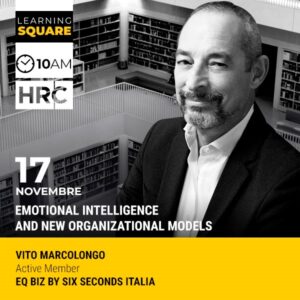 EMOTIONAL INTELLIGENCE AND NEW ORGANIZATIONAL MODELS
There are mainly 2 images that are used to describe the functioning of a company: that of the company as a "machine" and that of the company as a "living organism". Adopting one or the other perspective obviously implies being guided by different visions and interpretations of the essence and nature of business realities, as well as by the importance of the role of the people operating within them. As it is easy to see, machine-companies are driven by the desire to foresee and control every process or action taken to achieve their goals. People are in charge of their implementation, they are basically considered gears to be kept as oiled and efficient as possible, as well as safe from unforeseen events or deviations from a pre-established order. However, if we pay attention to the changes that are taking place within the cultural and organizational landscape of companies in every industry, we realize that this vision is not only extremely costly but also not very agile and functional to perform in a VUCA world. The situation is different if one decides to change perspective, imagining the company as a living organism animated by a profound purpose and able to interact and respond to stimuli and changes coming from the external environment through a structurally antifragile manner, enabled by radial organizational design composed of teams capable
of self-organization, responsible and connected to each other by a clear purpose and principles that they deeply share and a structure of relationships that connects them together enhancing the original contribution that each can bring to the achievement of the company's evolutionary purpose. Such organizations can thrive if collective EQ grows systematically. Self-awareness, as well as the ability to move inspired by a noble goal and the ability to make sustainable choices, allows teams to thrive and generate inspiring performances.
VITO MARCOLONGO Active Member EQ BIZ BY SIX SECONDS ITALIA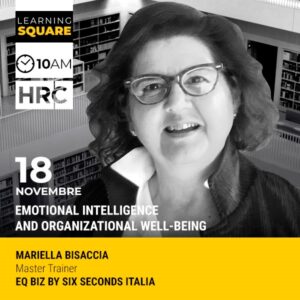 EMOTIONAL INTELLIGENCE AND ORGANIZATIONAL WELL-BEING
Investing in Organizational Well-Being means enabling employees to face today's changing business environment leveraging on trust and proactivity. It makes it easier to generate ideas, develop creative strategies, work together for a shared goal, take sustainable decisions and evaluate their impact on an emotional, relational and cognitive level. The upheaval brought about by the pandemic, the sudden shift to remote working and virtual teams add new challenges such as engagement, people management, effective communication and relations, sense of belonging, inclusion and innovation, retention and trust within the Organisation In this webinar, we'll deal with Emotional Intelligence focusing on "Life Skills". We'll explore two key factors of interpersonal relations, especially virtual ones: Empathy and Caring Thinking. We'll do so by analyzing data, practical and assessment tools, as well as business cases. We'll share our reflections about the value of investing in individual and organizational well-being as a key driver of success in the "new normal".
MARIELLA BISACCIA Master Trainer EQ BIZ BY SIX SECONDS ITALIA