PARENTS TUTORING: NEW GENERATIONS @WORK
*Copy and share the link to give to all the manager and colleagues of your company the opportunity to enroll to the weekly training sessions.
NOVEMBER 22 – 25 / 10am-11am – PARENTS TUTORING: NEW GENERATIONS @WORK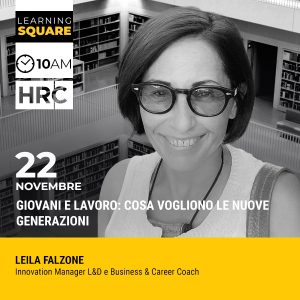 GIOVANI E LAVORO: COSA VOGLIONO LE NUOVE GENERAZIONI
Dove e come vogliono lavorare i ragazzi di oggi: nella propria città o dall'altra parte del mondo, in una grande azienda o in una start-up. Quali sono i valori che vogliono perseguire e le aspirazioni che desiderano soddisfare. Una fotografia di Millennials e Zed Gen per dare modo ai genitori di comprendere le peculiarità che caratterizzano le nuove generazioni rispetto alla scelta del percorso professionale in un confronto con i modelli a cui si sono ispirati i Baby-boomer.
LEILA FALZONE Innovation Manager L&D e Business & Career Coach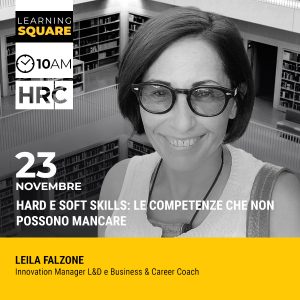 HARD E SOFT SKILLS: LE COMPETENZE CHE NON POSSONO MANCARE
Dalle "hard skills" che possono essere apprese durante il percorso di studi alle "soft skills" che ci rendono unici. Una panoramica per scoprire le competenze tecniche più richieste in base alle professioni emergenti e quelle trasversali che non possono mai mancare a prescindere dall'evoluzione del mercato del lavoro. Un focus particolare sui "must have" che un giovane candidato deve sempre allenare: competenze digitali, linguistiche e relazionali.
LEILA FALZONE Innovation Manager L&D e Business & Career Coach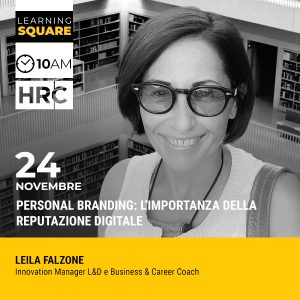 PERSONAL BRANDING: L'IMPORTANZA DELLA REPUTAZIONE DIGITALE
Nell'era digitale, la carta d'identità e l'immagine social rappresentano molto spesso due facce della stessa medaglia. Da LinkedIn a Tik Tok, passando per Instagram, un approfondimento sui social network non solo come strumenti di svago e condivisione personale, ma anche come canali strategici in grado di valorizzare il personal branding in un'ottica di ricerca attiva di lavoro. Tanti take-away pratici per passare dal concetto di job seeker (cerco un lavoro) a quello di job hunter (rappresento la soluzione per la tua azienda).
LEILA FALZONE Innovation Manager L&D e Business & Career Coach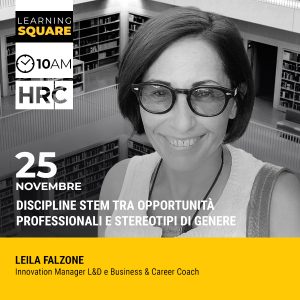 DISCIPLINE STEM TRA OPPORTUNITÀ PROFESSIONALI E STEREOTIPI DI GENERE
Una guida pratica per supportare i propri figli nella scelta del percorso universitario tra le facoltà che prospettano più sbocchi professionali e quelle più in linea con le proprie passioni e i propri talenti. Un viaggio nelle discipline STEM (Science – Technology – Engineer – Mathematics) che rispondono meglio alle professionalità che saranno maggiormente richieste nel prossimo futuro con un'attenzione particolare agli stereotipi di genere che allontanano le ragazze dalle facoltà tecnico-scientifiche.
LEILA FALZONE Innovation Manager L&D e Business & Career Coach