Well@Work promosso da HRC è il più importante momento di confronto per ridefinire concretamente nuovi modelli di lavoro che mettano la persona al centro, facendo dialogare armonicamente vita privata e vita professionale.
È il luogo dove viene rappresentato lo scenario del benessere organizzativo, evidenziandone i trend attraverso la presentazione delle migliori iniziative a sostegno del benessere dei dipendenti da parte di aziende prestigiose, oltre che momento di confronto sulle strategie per fare innovazione in tal ambito.
AGENDA

 
08.30 Registrazione partecipanti e welcome coffee
Modera Renato Geremicca Founder GEREBROS
9.00 Opening
Giordano Fatali President & Founder HRC GROUP
09.15 IL WELFARE PER LE COSE CHE CONTANO
Monica Carta Head of International Social Dialogue, Welfare & People Care UNICREDIT
09.30 ALIMENTAZIONE
Roberto Burdese Membro del Comitato esecutivo internazionale SLOW FOOD
09.45  MOVIMENTO
Silvano Zanuso Technogym Scientific Research & Communication Manager TECHNOGYM
10.00 SALUTE
Simone Viola Head of Business Development & Sales GENERALI WELION
10.15 MENTE
Laurence Duretz Country Manager PSYA ITALIA
10.30  VISION
Raffaella Temporiti HR Director Italy, Central Europe and Greece ACCENTURE
Paola Malchiodi Director HR Italy ADIDAS ITALY
Sonia Malaspina HR Director South East Europe DANONE
Daniela Paliotta HR Head MERCEDES-BENZ ITALIA
Simona Robotti Director People & Culture Technology & Manufacturing Bologna PHILIP MORRIS ITALIA
Amelia Parente HR & Communications Director ROCHE
Elisabetta Cristofori Head of HR Country Services Italy TETRA PAK

11.45 RACCONTARE IL BENESSERE ORGANIZZATIVO. LINEE GUIDA E INSIGHT OPERATIVI
Andrea Fontana Presidente STORYFACTORY
12.00 Well@Work Award 2019 powered by HRC & TECHNOGYM
12.30 Buffet lunch presso TREE HOUSE B UNICREDIT
14.00 – 15.30 Interaction Lab (sessione parallela) presso TREE HOUSE B UNICREDIT

EASY GOING, EASY WELFARE
Easy Welfare presenterà, attraverso dati e case history, una panoramica completa dell'andamento del mercato del 2018, raccontando nello specifico cos'è il Welfare e quali sono i trend, le statistiche e i punti di forza di questo settore, mettendo in evidenza come il welfare aziendale rappresenti un beneficio sia per l'azienda che per i dipendenti.
Intervengono:
Claudia Baitelli Client Development Manager EASY WELFARE
Lorenza Pellegrini Key Account Manager EASY WELFARE
HAPPY LEARNING
Come possiamo generare entusiasmo e uscire dallo stereotipo dell'apprendimento tradizionale? Che impatto avrebbe sull'organizzazione? Come si fa a infondere il gusto di imparare? Per suscitare il desiderio di apprendere è necessario rispondere sempre più ad esigenze personalizzate e costruire un apprendimento lungo tutto l'arco della vita".
Interviene: Mirko Puliafito Product Director DOCEBO
LIFE READY COMPANY
Come aumentare il valore della tua azienda? Riconoscendo e accogliendo le molte dimensioni delle tue persone e creando una cultura di "sinergia vita-lavoro". Aumenteranno efficacia e benessere organizzativo, che si tradurranno in un vero e proprio ROI sul capitale umano.
Interviene: Riccarda Zezza CEO MAAM BY LIFE BASED VALUE
PARTECIPANTI
UNICREDIT – Welfare and People Care Manager
UBS ITALIA – HR Director
SLOW FOOD – Membro del Comitato esecutivo internazionale
MERCEDES-BENZ ITALIA – HR Head
ADIDAS – HR Director Italy
GENERALI WELION – Business Development & Sales
LEROY MERLIN – Responsabile Risorse Umane Regione Nord-Est
ACEA – Head of Industrial Relations
TECH DATA – HR & Payroll Manager
PIRELLI – HR Training & Welfare
3M ITALIA – Talent Acquisition
NOVARTIS PHARMA – Country People & Organization BP
ROBERT BOSCH – Vice President Human Resources & Organization South Europe
FASTWEB – C&M Welfare & policy Professional
MYLAN – HR Director
LOUIS VUITTON – Compensation & Benefits HR
3M ITALIA – Employee Relations & labour Relations EML
ACCENTURE – Managing Director
SEA AEROPORTI DI MILANO – HR Development
EASY WELFARE – Consultant
COPERNICO – Board Member, Network Development, Sales management
COMDATA – HR Communication
WILLIS TOWERS WATSON – Account
ZAMBON GROUP – HR Recruiting and Administration
GENERALI WELION – Business Development & Sales
STORYFACTORY – HR Manager
DELOITTE – Well Being Leader
BUREAU VERITAS – Carreer Development & Training Manager
DAY RISTOSERVICE – Account
PSYA ITALIA – Business Development Manager
COMDATA – HR Learning & Development Sp
ZETA SERVICE – Presidente & CEO
DR. SCHÄR – Corporate Personnel and Organisation Development Manager
EASY WELFARE – Sales consultant
HUMANITAS RESEARCH HOSPITAL – Direttore Risorse Umane e Organizzazione
FASTWEB – Process & Benefit Professional
GI GROUP – International Training and Development Manager
WORKDAY – Regional Marketing Manager
SICURITALIA INVESTIGAZIONI – Key Account Manager
TPER – Human Resources
PHILIPS – South Europe Compensation and Benefits Manager
MANPOWERGROUP – Responsabile Gestione Risorse Umane
BSI GROUP – Human Resources
PROTIVITI – HR Director
USCO – Responsabile Risorse Umane
TEVA ITALIA – HR Manager
HPE – Compensation&Benefits
AUTOSTRADE PER L'ITALIA – HR Compensation&Benefit
GRENKE – Head of Human resources
SKY ITALIA – Knowledge Management
UNICREDIT – Trade Unions Goverance and Strategies
IREN – Welfare
TPER – Human Resources
POLIGRAFICO E ZECCA DELLO STATO ITALIANO – HR Manager – Responsabile Relazioni Sindacali
BORSA ITALIANA – HR Reward & Union Relations
ARNOLDO MONDADORI EDITORE – Workforce Planning People Reward
GIANNI VERSACE – Corporate HR Manager
CEVA LOGISTICS ITALIA – Human Resources
BANCA POPOLARE DI BARI – Responsabile Servizio RU
ENEL – Industrial Relations
RWE INNOGY ITALIA – Head of Human Resources
EATALY – HR Operations Manager
FINDOMESTIC BANCA – Relazioni sindacali
KPMG ADVISORY – HR Director
VALENTINO FASHION GROUP – Corporate Learning and Development Manager
GI GROUP – Direttore Risorse Umane
SANOFI – Welfare & Benefit
BNL – BNP PARIBAS – HR Manager
TETRA PAK – Manager, Recruiting & Training
UNICREDIT – HR Business Partner
ENAV – People Care Projects Coordinator
GE – HR Employee Support GE Medycal System Italia
MAAM – CEO
POSTE VITA – Risorse Umane e Organizzazione
SGB HOLDING – Consigliere di Amministrazione Delegato
DAY RISTOSERVICE – Account Manager
ALDI – HR Business Analyst
MAAM – Chief sales & marketing officer
COCA-COLA HBC ITALIA – Talent Coordinator
KOELLIKER GROUP – Human Resources
COOP – Responsabile Compensation, Personale Sede, Welfare e Pari Opprtunità
GE – HR Operations Team Leader – GE Global Operations
TECHNOGYM – Sales Reponsabile HCP Italia
PSYA ITALIA – Country Manager
PRYSMIAN – HR BP
CAP HOLDING – HR Responsabile Servizi Operativi
LOUIS VUITTON – Compensation & Benefit, budget And Reporting Manager
FLEX – HR Generalist
DAY RISTOSERVICE – Account
SICURITALIA INVESTIGAZIONI – marketing
STORYFACTORY – Presidente
FASTWEB – Welfare Manager
COCA-COLA HBC ITALIA – HR Business Partner
CEVA LOGISTICS ITALIA – People Development
SCHNEIDER ELECTRIC – Company Development Program Manager
COCA-COLA HBC ITALIA – HR Service
FLEX – HR Generalist
UNICREDIT – Senior Project and Demand manager
COTY ITALIA – Franchise leader
3M ITALIA – E.S.C., GES & Mobility
AUTOSTRADE PER L'ITALIA – Supervisor Training & Empowerment
ALLEANZA ASSICURAZIONI – Head of People Dialogue
MYLAN – HR Business Partner
DOCEBO – Agile Coach
UNICREDIT – Welfare and People Care Manager
KOELLIKER GROUP – Human Resources – Training
GIANNI VERSACE – VP, Corporate HR and Global Learning&Development
EASY WELFARE – Sales consultant
AIRC – Account Partnership & New Business
PSYA ITALIA – Account
HUMANITAS RESEARCH HOSPITAL – Human Resources
WILLIS TOWERS WATSON – Account
ELICA – HR Director
UNICREDIT – Human Resources
INTERNATIONAL PAPER ITALIA – HR Generalist North
TAS GROUP – HR Director
GI GROUP – Personnel administration Manager
COCA-COLA ITALIA – HR Coordinator
GLOBALENGLISH – Customer Success Manager
USCO – CFO and HR
MOLTENI FARMACEUTICI – Responsabile Formazione DCO
COMMSCOPE – Head of HR South Europe and MEA
HILTI ITALIA – HR Business Partner
MITSUBISHI ELECTRIC EUROPE – HR Manager
BENETTON GROUP – Head of Organization&Processes
LUNDBECK ITALIA – HR Director
QUANTA – Event Manager
DANONE – HR Director South East Europe ELN, HR Director Italy & Greece
FORGITAL ITALY – Human Resources
WILLIS TOWERS WATSON – Account
TPER – Human Resources
KPMG ADVISORY – CRS HR
TATITOTO – Presidente
HOLCIM ITALY – Head of Organization & Human Resources Italia
TECHNOGYM – Trade Marketing Manager
PRYSMIAN – Performance, Development and Culture Responsible
TPER – Human Resources
UNICREDIT – Human Resources
VIS – Responsabile Raccolta Fondi e Gestione Aziende
WILLIS TOWERS WATSON – Senior Consultant
VALAGRO – HR Employer Branding & Talent acquisition
COTY ITALIA – Franchise Manager
ZETA SERVICE – Responsabile Marketing Intelligence & Planning
TECH DATA – HR Director Italy
IREN – Welfare
BANCA POPOLARE DI BARI – Rsponsabile Uffcio Pianificazione e Gestione Riosrse
HUMANITAS SAN PIO X – HR Director
BIP – Human Resources
PERFETTI VAN MELLE – Human Resources
UNICREDIT – Welfare and People Care
CONFINDUSTRIA – Assitente
ROCHE – HR & Communications Director
TEVA ITALIA – HR Assistant
THERMO FISHER SCIENTIFIC – Senior HR Business Partner
SIA – HR Formazione
CASSA DI RISPARMIO DI CENTO – HR Formazione
OPEN FIBER – Gestione HR
EASY WELFARE – Sales account
DAY RISTOSERVICE – Responsabile Commerciale
MYLAN – HR Business Partner
BIP – HR Employer Branding&People Engagement
KOELLIKER GROUP – HR Assistant
COTY ITALIA – Manager
SEA AEROPORTI DI MILANO – Responsabile Welfare
FINDOMESTIC BANCA – Project Manager Piano HR 2020
LEROY MERLIN – HR Legal
MYLAN – HR Support
ENI – Digital Competence Center & Best Practices
TEDDY – HR & TRAINING MANAGER
DOCEBO – Product Director
WORKDAY – CEO
HUMANITAS RESEARCH HOSPITAL – Responsabile HR Gestione Staff e Cost Control
EVERIS – Human Resources
TECHNOGYM – Corporate Key Account Manager
CARLSON WAGONLIT – Head of Events
DAZN – HR Business Partner
HUMANITAS SAN PIO X – HR Organizational Development
PHILIP MORRIS ITALIA – Director People & Culture Philip Morris Technology & Manufacturing Bologna
LEROY MERLIN – Responsabile Risorse umane negozio Verona
DOCEBO – Field Marketing Manager Emea
BAUSCH + LOMB – HR support
FULCRI – HR Manager
SKY ITALIA – Personal Assistant HR e Legal
GLOBALENGLISH – Global Account Executive
MAAM – Sales Manager
SODEXO ITALIA – Italy HR Administration Manager MED Region Rewards & HR-IS Director Servizi On-site
AUTOMOBILI LAMBORGHINI – Coordination of Recruiting
MATTEL ITALY – HR Business Partner
DS SMITH – HR Business Partner
GRENKE – Human Resources
DOCEBO – Account Executive
SKY ITALIA – HR Project Manager
HALLDIS – Chief marketing officer
COOP – Compensation, Gestione Personale di Sede, Welfare e Pari Opportunità
ENEL – Human Resources
WEIR GABBIONETA – HR Director
KOELLIKER GROUP – HR & FM Director
FINDOMESTIC BANCA – Risorse Umane
GE – Jr HR Employee Support – GE Healthcare
VALAGRO – HR Administration
HPE – HR Generalist
INTESA SANPAOLO – People Care
CEVA LOGISTICS ITALIA – Communication HR
ACCENTURE – Responsabile Risorse Umane Italia, Europa Centrale e Grecia
LEROY MERLIN – Direttore
BALLY – HR Manager HQ Italy
INTESA SANPAOLO – People care
SAIPEM – Responsabile relazioni sindacali
TESISQUARE – HR Director
GENERALI WELION – Marketing
IMMOBILIARE PERCASSI – Human Resources
ALUK GROUP – Human Resources
3M ITALIA – Total Rewards Ldr Italy Iberia Greece
MAAM – Account
GENERALI WELION – Head of Business Development & Sales
EVERIS – HR & HR Payroll
INSPIRE– Founder & CEO
MARSH – Broking Executive
GE – HR Global Mobility Service
IREN – Welfare
TECHNOGYM – Technogym Scientific Research & Communication Manager
CAP HOLDING – Human Resource Director
UNI – Direttore Sostenibilità e Valorizzazione
MAAM – Head of Business
ALIMENTAZIONE

MOVIMENTO

SALUTE

MENTE

PARTNER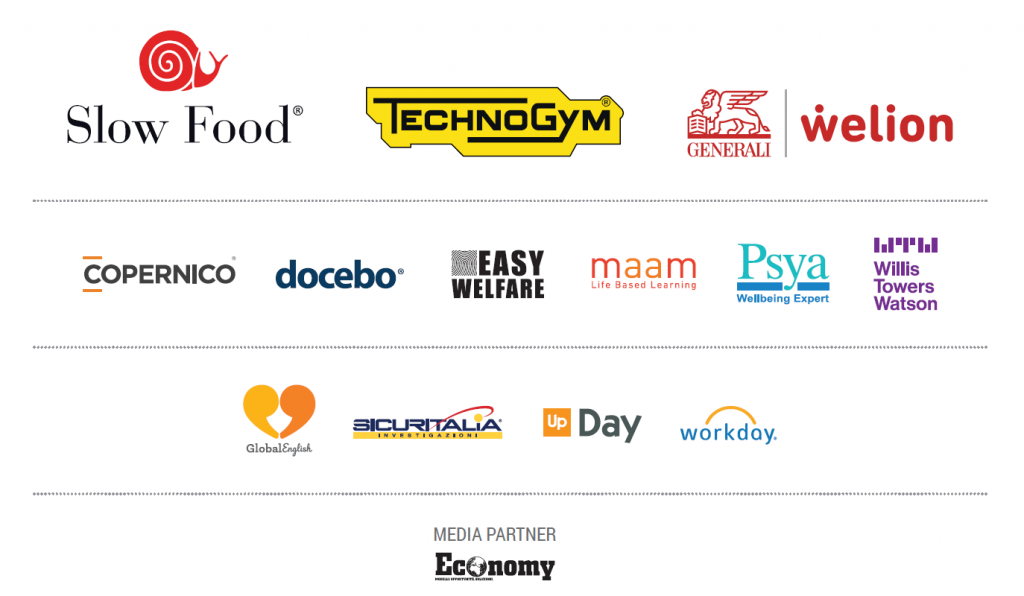 Compila il modulo e indica l'Interaction Lab di tuo interesse
Compila il modulo per iscriverti, se sei registrato vai alla piattafroma MYHRGOAL