TERZO MILLENNIO: DALLA STRATEGIA ALLE LEVE PIÙ EFFICACI PER LO SVILUPPO DELLE COMPETENZE
*Copy and share the link to give to all the manager and colleagues of your company the opportunity to enroll to the weekly training sessions.
MAY 3 – 6 / 10am-11am – TERZO MILLENNIO: DALLA STRATEGIA ALLE LEVE PIÙ EFFICACI PER LO SVILUPPO DELLE COMPETENZE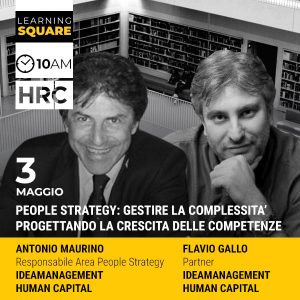 PEOPLE STRATEGY: GESTIRE LA COMPLESSITA' PROGETTANDO LA CRESCITA DELLE COMPETENZE
Costruire dashboard dinamiche in grado di incrociare dati provenienti da diversi indicatori aziendali (performance,
learning agility, coverage index, motivazione), per governare la crescita delle competenze distintive e creare così
vantaggio competitivo.
ANTONIO MAURINO Responsabile Area People Strategy IDEAMANAGEMENT HUMAN CAPITAL
FLAVIO GALLO Partner IDEAMANAGEMENT HUMAN CAPITAL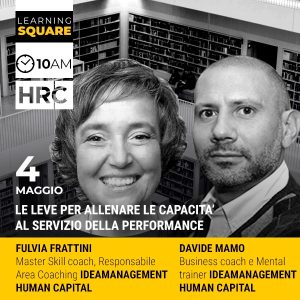 LE LEVE PER ALLENARE LE CAPACITA' AL SERVIZIO DELLA PERFORMANCE
Potenziare le proprie capacità per ciascun professionista è una responsabilità, ma anche un fattore critico di
successo per l'organizzazione. La velocità con la quale si riesce ad apprendere nuove modalità di azione è
diventato un fattore competitivo chiave per affrontare i cambiamenti: Skill coaching ed auto-coaching possono
essere leve effcaci per allenarle.
FULVIA FRATTINI Master Skill coach, Responsabile Area Coaching IDEAMANAGEMENT HUMAN CAPITAL
DAVIDE MAMO Business Coach e Mental Trainer IDEAMANAGEMENT HUMAN CAPITAL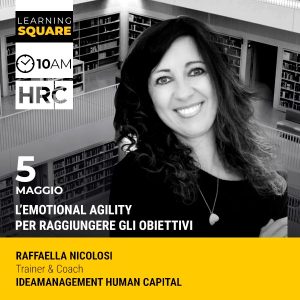 L'EMOTIONAL AGILITY PER RAGGIUNGERE GLI OBIETTIVI
Utilizzare emozioni e sentimenti per sviluppare le competenze professionali e raggiungere gli obiettivi.
RAFFAELLA NICOLOSI Trainer & Coach IDEAMANAGEMENT HUMAN CAPITAL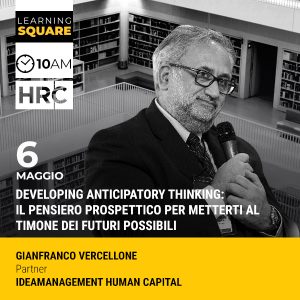 DEVELOPING ANTICIPATORY THINKING: IL PENSIERO PROSPETTICO PER METTERTI AL TIMONE DEI FUTURI POSSIBILI
Il futuro è già attivo e ci manda in continuazione segnali che non sappiamo, né forse vogliamo, cogliere. Soprattutto
abbiamo una prospettiva molto parziale sul futuro, che non è uno ma sono tanti e sono diversamente possibili,
plausibili, probabili o preferibili. Ci sono alcuni semplici ma potenti strumenti per allenare il pensiero prospettico
e attuare l'anticipazione strategica.
GIANFRANCO VERCELLONE Socio IDEAMANAGEMENT HUMAN CAPITAL