*Copy and share the link to give to all the manager and colleagues of your company the opportunity to enroll to the weekly training sessions.
FEBRUARY 8-11 / 10am-11am – MENTAL WELLBEING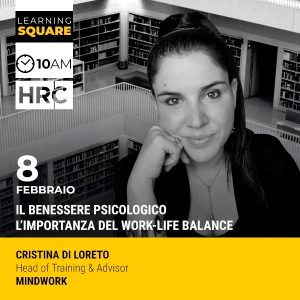 IL BENESSERE PSICOLOGICO – L'IMPORTANZA DEL WORK-LIFE BALANCE
Parliamo spesso di benessere psicologico, di crescita personale, di empowerment. Cosa significa stare bene? Quanto conta nello stare bene un buon bilanciamento tra vita privata, piacere e soddisfazione lavorativa? Ne parliamo in questo webinar che offrirà ai partecipanti stimoli di riflessione ma anche qualche esercizio pratico.
CRISTINA DI LORETO Head of Training & Advisor MINDWORK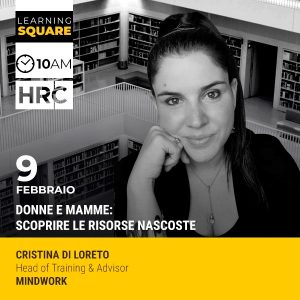 DONNE E MAMME: SCOPRIRE LE RISORSE NASCOSTE
Il benessere mentale richiede impegno, sforzo e attenzione. L'emergenza che abbiamo e stiamo affrontato ha impattato in misura maggiore sulle donne probabilmente a causa del doppio ruolo di lavoratrici e care giver. In questo webinar affrontiamo questo delicato tema proponendo suggerimenti pratici per riattivare risorse e capacità che in alcuni momenti potrebbero sembrare dimenticate.
————————————–
CRISTINA DI LORETO Head of Training & Advisor MINDWORK
TEAM DIFFUSI: RELAZIONI E TECNOLOGIA IN INTERAZIONE
Il gruppo rappresenta il nucleo fondamentale delle organizzazioni produttive. Con l'introduzione delle nuove tecnologie e con il necessario ed esponenziale incremento del lavoro a distanza le dinamiche dei team hanno subito importanti variazioni. Comprendere le traiettorie e gli sviluppi della situazione è il primo passo per una gestione efficace.
SARA GABRI Organizational Psychologist, Ph.D. & Senior Consultant MINDWORK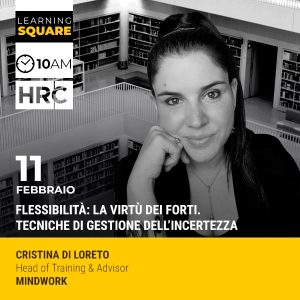 FLESSIBILITÀ: LA VIRTÙ DEI FORTI. TECNICHE DI GESTIONE DELL'INCERTEZZA
I mesi passati sono stati all'insegna della paura e dell'incertezza sensazioni che hanno prodotto in molti di noi riflessi psicosomatici e l'incapacità di osservare il futuro con serenità. In questo webinar affronteremo il tema della flessibilità, prerequisito e soft skill fondamentale per gestire l'incertezza e allenarci a lasciare andare il controllo di ciò che non possiamo dirigere personalmente per essere però in grado di riacquisirlo laddove necessario.
————————————-
CRISTINA DI LORETO Head of Training & Advisor MINDWORK