*Copy and share the link to give to all the manager and colleagues of your company the opportunity to enroll to the weekly training sessions.
OCTOBER 4 – 7 / 10am-11am – MENTAL WELLBEING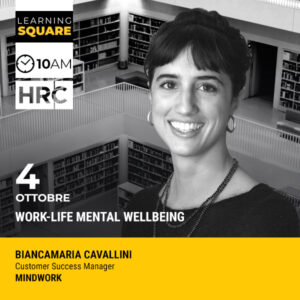 WORK-LIFE MENTAL WELLBEING
Come puoi contribuire al tuo benessere attraverso le soft skill? Quale soft skill è più utile per il tuo benessere? Come migliorare sé stessi? Una riflessione su quel che possiamo fare, partendo dalle nostre esperienze e percezioni.
BIANCAMARIA CAVALLINI Customer Success Manager MINDWORK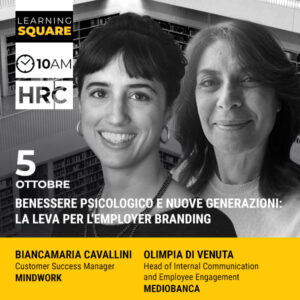 BENESSERE PSICOLOGICO E NUOVE GENERAZIONI: LA LEVA PER L'EMPLOYER BRANDING
Perché la salute psicologica per le nuove generazioni non sembra essere un tabù? Quali elementi culturali, valoriali
e sociali contribuiscono? Il digitale gioco un ruolo? E come mettere a sistema tutto ciò per sviluppare un employer
branding inclusivo, fluido ed efficace?
BIANCAMARIA CAVALLINI Customer Success Manager MINDWORK
OLIMPIA DI VENUTA Head of Internal Communication and Employee Engagement MEDIOBANCA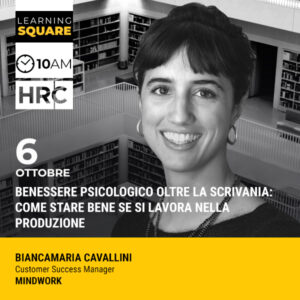 BENESSERE PSICOLOGICO OLTRE LA SCRIVANIA: COME STARE BENE SE SI LAVORA NELLA PRODUZIONE
Una riflessione sul ruolo che il benessere psicologico ha per le persone che lavorano nella produzione, per comprendere quali elementi giocano un ruolo primario e quale strategia possono usare per stare bene.
BIANCAMARIA CAVALLINI Customer Success Manager MINDWORK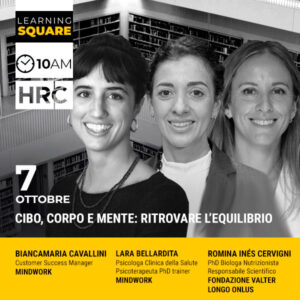 CIBO, CORPO E MENTE: RITROVARE L'EQUILIBRIO
Esiste una relazione circolare tra cibo, salute fisica, benessere psicologico e performance? In questo webinar,
attraverso l'integrazione della prospettiva di una nutrizionista e di una psicologa clinica, vengo presentati
informazioni e spunti per attivare un processo di cambiamento che nutra il benessere globale della persona
LARA BELLARDITA Psicologa Clinica della Salute Psicoterapeuta PhD trainer MINDWORK
ROMINA INÉS CERVIGNI PhD Biologa Nutrizionista Responsabile Scientifico FONDAZIONE VALTER LONGO ONLUS
BIANCAMARIA CAVALLINI Customer Success Manager MINDWORK