AFFRONTARE E VINCERE LA SFIDA DEL CAMBIAMENTO
*Copy and share the link to give to all the manager and colleagues of your company the opportunity to enroll to the weekly training sessions.
SEPTEMBER 27 – 30 / 10am-11am – AFFRONTARE E VINCERE LA SFIDA DEL CAMBIAMENTO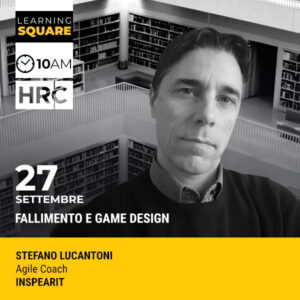 FALLIMENTO E GAME DESIGN
Viviamo costantemente in stretta relazione con contesti in continuo cambiamento in cui è fondamentale trovare modi sempre più efficaci di imparare e innovare. Una serie di importanti lezioni ci può arrivare dal mondo del gaming che sviluppa da decenni tecniche e strumenti per ingaggiare individui, gruppi e intere community nel fare un duro lavoro imparando e quindi innovando grazie ai fallimenti.
Prepariamoci ad indossare le lenti del game designer per applicare noi per primi queste lezioni nelle nostre organizzazioni.
STEFANO LUCANTONI Agile Coach INSPEARIT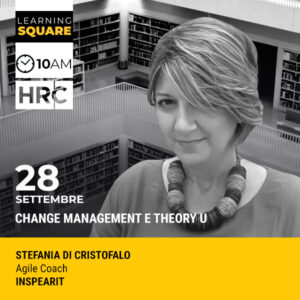 CHANGE MANAGEMENT E THEORY U
Perché i tentativi di affrontare le sfide del nostro tempo così spesso falliscono? La causa del fallimento collettivo è che siamo ciechi di fronte alla dimensione più profonda del cambiamento trasformazionale. Questo "punto cieco" esiste non solo nella nostra leadership collettiva ma anche nelle nostre interazioni sociali quotidiane» [Precencing Institute]. Co-initiating, co-sensing, presensing, co-creating, co-evolving sono le fasi del processo Theory U per trasformare gli individui, le organizzazioni, la società costruendo il futuro che vuole emergere. Tutti siamo chiamati ad essere Change Maker, lasciando andare le paure per lasciare venire la nostra più alta possibilità futura.
————————————–
STEFANIA DI CRISTOFALO Agile Coach INSPEARIT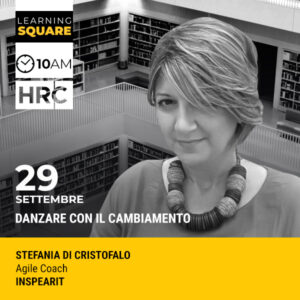 DANZARE CON IL CAMBIAMENTO
Ogni cambiamento è destabilizzante. L'introduzione dell'agilità nelle organizzazioni, in particolare, mina il senso di autoefficacia di molti manager che sono costretti a mettere in discussione l'idea di successo maturata nel corso della propria carriera. Come possiamo proiettare i manager in un futuro di soddisfazione nel contesto agile, riducendo la resistenza al cambiamento legata alla paura di perdere lo "status gerarchico" e il "potere sulle persone o sul budget"?  L'agilità reinterpreta l'idea di  «potere» e di  «status»  esaltando le competenze maturate durante tutta la vita professionale. [L'esperienza non è ciò che accade a un uomo. È quello che un uomo fa con ciò che gli accade. Aldous Huxley].
STEFANIA DI CRISTOFALO Agile Coach INSPEARIT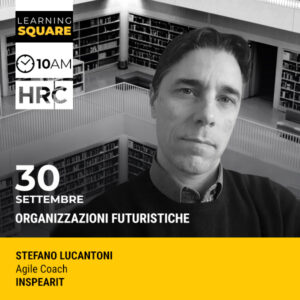 ORGANIZZAZIONI FUTURISTICHE
Lungo tutto l'arco della storia umana ciò che ci ha contraddistinto come specie è la nostra capacità di organizzarci in gruppi sempre più numerosi ed efficienti evolvendo i modelli organizzativi e questo fino ai giorni nostri in cui tale processo di rinnovamento continua. Quali nuovi e curiosi modelli sono emersi negli ultimi anni? Su quali principi si basano e che risultati stanno portando? Vediamoli in un breve viaggio nelle organizzazioni Teal.
STEFANO LUCANTONI Agile Coach INSPEARIT