DIGITAL TRANSFORMATION. THE HUMAN FACTOR
*Copy and share the link to give to all the manager and colleagues of your company the opportunity to enroll to the weekly training sessions.
SEPTEMBER 20 – 23 / 10am-11am – DIGITAL TRANSFORMATION – THE HUMAN FACTOR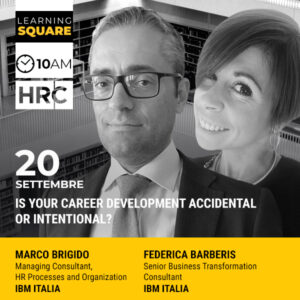 IS YOUR CAREER DEVELOPMENT ACCIDENTAL OR INTENTIONAL?
In this session we will learn about the key factors that enable meaningful and effective career development practices that can benefit employees and organizations alike. We will also understand how to keep the "modern learner" engaged and motivated in a business landscape of disruptive innovations and evolving people attitudes.
MARCO BRIGIDO Managing Consultant, HR Processes and Organization IBM ITALIA
FEDERICA BARBERIS Senior Business Transformation Consultant IBM ITALIA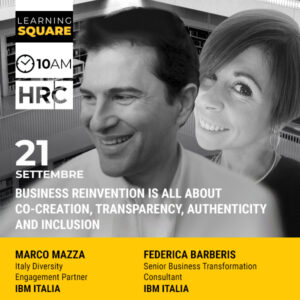 BUSINESS REINVENTION IS ALL ABOUT CO-CREATION, TRANSPARENCY, AUTHENTICITY AND INCLUSION
Promote transparency and authenticity across the organization in order to preserve and promote trust, reduce risk and improve the quality of work and the dynamics in the workplace. Learn how employees at every level can enable a more inclusive and productive working environment through open dialogue and entrepreneurship.
FEDERICA BARBERIS Senior Business Transformation Consultant IBM ITALIA
MARCO MAZZA Italy Diversity Engagement Partner IBM ITALIA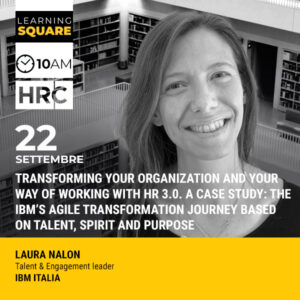 TRANSFORMING YOUR ORGANIZATION AND YOUR WAY OF WORKING WITH HR 3.0. A CASE STUDY: THE IBM'S AGILE TRANSFORMATION JOURNEY BASED ON TALENT, SPIRIT AND PURPOSE
As business and society face unprecedented uncertainty, sustaining communication, collaboration, capacity, and culture within the workforce are required like never before. Transformation in today's business is rarely easy. But when changes must be made within an organization of well over 100,000 employees, it can be downright hard. On this, listen and learn how IBM is adopting successfully agile methods also in the most complex parts of the business to quickly adopt new and highly efficient ways of working and to transform processes and operations. Organizations must adapt in order to keep employees inspired and enabled and to maintain business continuity. Doing so will require new ways of working and a focus on reskilling the workforce.
LAURA NALON Talent & Engagement leader IBM ITALIA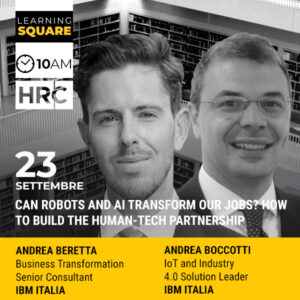 CAN ROBOTS AND AI TRANSFORM OUR JOBS? HOW TO BUILD THE HUMAN-TECH PARTNERSHIP
The relationship between people and AI resets organizations' expectations for what data can do: as exponential technologies contribute to transform the enterprise and the nature of work, we will learn how robots and AI can impact our daily activities, becoming trusted advisors to employees without sacrificing the need for a humanized experience. See how Intelligent Asset management operates in Travel & Transportation and how Cognitive Customer Care assists Telecommunications.
ANDREA BERETTA Business Transformation Senior Consultant IBM ITALIA
ANDREA BOCCOTTI IoT and Industry 4.0 Solution Leader IBM ITALIA