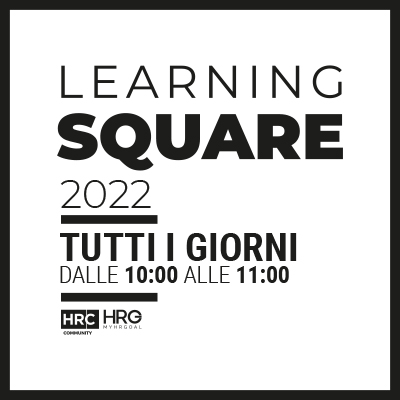 STRUMENTI PER UN MANAGEMENT DI VALORE
*Copy and share the link to give to all the manager and colleagues of your company the opportunity to enroll to the weekly training sessions.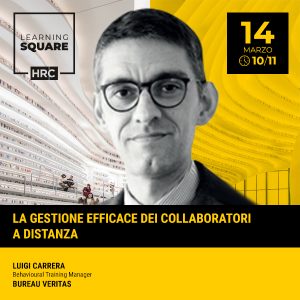 LA GESTIONE EFFICACE DEI COLLABORATORI A DISTANZA
Nuove forme di organizzazione (smart working, progetti, reti, gestione remota) si affacciano in azienda in questi tempi di cambiamento.
Quali, quindi, le competenze da sviluppare per eccellere nella Gestione dei Propri Collaboratori?
Gestione a distanza, comunicazione efficace, gestione dei colloqui: ecco le tematiche per affrontare con successo la ''nuova normalità''.
LUIGI CARRERA Behavioural Training Manager BUREAU VERITAS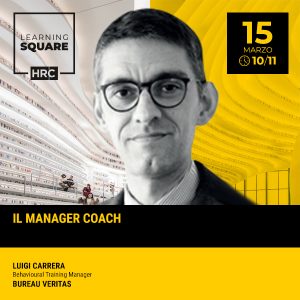 IL MANAGER COACH
Situazioni sempre più complesse e la necessità di proattività richiedono un elevato livello di autonomia dello staff. I collaboratori non devono solo essere capaci e motivati, ma anche possedere un maggiore livello di maturità al fine di prendere il controllo di molteplici situazioni. Il tradizionale ruolo del manager muta, comprendendo ora anche il ruolo di coach, che richiede un approccio particolare e strumenti specifici.
LUIGI CARRERA Behavioural Training Manager BUREAU VERITAS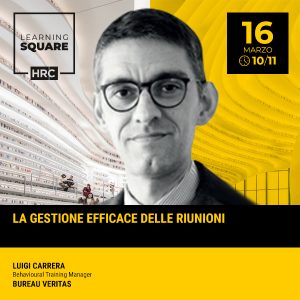 LA GESTIONE EFFICACE DELLE RIUNIONI
L'incontro affronterà tutti gli strumenti necessari per rendere efficace una dinamica quotidiana: la riunione, in particolare:
• Strutturare al meglio una riunione affinché sia produttiva per tutti: la fase di progettazione
• Conoscere i differenti tipi di riunione
• Confrontarsi sulla gestione delle situazioni difficili
LUIGI CARRERA Behavioural Training Manager BUREAU VERITAS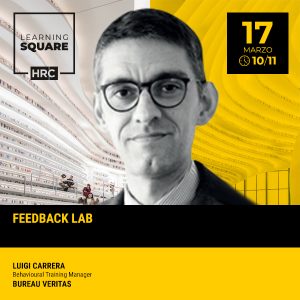 FEEDBACK LAB
Oggi più che mai, la gestione efficace di un Feedback assume un significato strategico nella gestione dei propri Collaboratori.
Attraverso un taglio estremamente interattivo, il webinar si propone di fornire una ''cassetta degli attrezzi'' per gestire con successo questa dinamica fondamentale.
LUIGI CARRERA Behavioural Training Manager BUREAU VERITAS