*Copy and share the link to give to all the manager and colleagues of your company the opportunity to enroll to the weekly training sessions.
JULY 12 – 15

 / 10am-11am – DATA DRIVEN HR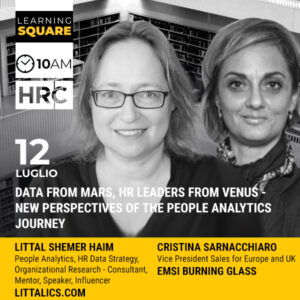 DATA FROM MARS, HR LEADERS FROM VENUS – NEW PERSPECTIVES OF THE PEOPLE ANALYTICS JOURNEY
An analytical mindset and practical first steps are a must for any HR leader who prepares the organization for the future of work. Leading a successful journey of People Analytics and data-driven HR follows a unique conceptual model shared in this talk. Key takeaways will include definition and myths; data sources guideline and quick wins; processes, teams, and partnerships; data-driven culture and ethics.
LITTAL SHEMER HAIM People Analytics, HR Data Strategy, Organizational Research – Consultant, Mentor, Speaker, Influencer LITTALICS.COM
CRISTINA SARNACCHIARO Vice President Sales for Europe and UK EMSI BURNING GLASS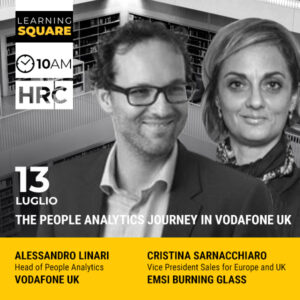 THE PEOPLE ANALYTICS JOURNEY IN VODAFONE UK
In questa sessione vi parlerò del percorso di People Analytics in Vodafone UK: le motivazioni che ci hanno spinto a costruire questo servizio in azienda e le sfide che abbiamo dovuto affrontare per costruire il team e per coinvolgere tutta la funzione HR. Infine, condividerò alcuni casi concreti di come oggi stiamo utilizzando i dati per prendere le nostre decisioni.
ALESSANDRO LINARI Head of People Analytics VODAFONE UK
CRISTINA SARNACCHIARO Vice President Sales for Europe and UK EMSI BURNING GLASS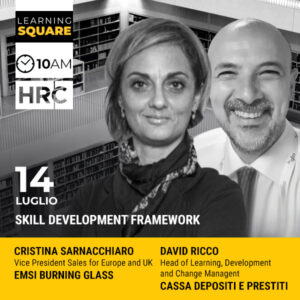 SKILL DEVELOPMENT FRAMEWORK
Presentazione del pilota in corso relativo alla definizione del nuovo "Skill Development Framework", rivolto a tutte le famiglie professionali presenti nell'organizzazione, in ottica data driven, valorizzando gli analytics del mercato del lavoro. Lo "Skill Development Framework" è una infrastruttura in corso di creazione, volta a mappare i ruoli professionali e le relative competenze, aumentando l'efficacia delle azioni di formazione e di sviluppo (focus specifico: attraction e retention del target «newly hired»), valorizzando i trend di crescita delle competenze previsti dal mercato del lavoro.
DAVID RICCO Head of Learning, Development and Change Managent CASSA DEPOSITI E PRESTITI
CRISTINA SARNACCHIARO Vice President Sales for Europe and UK EMSI BURNING GLASS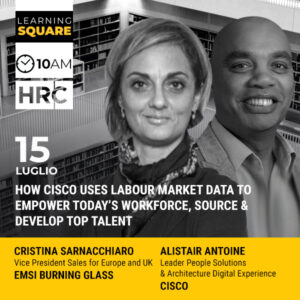 HOW CISCO USES LABOUR MARKET DATA TO EMPOWER TODAY'S WORKFORCE, SOURCE & DEVELOP TOP TALENT
The goal of Cisco's Inclusive Future and Strategy group was to provide an inclusive experience for all current and prospective employees. With a focus on talent, Cisco was looking to transform the way it develops skills and learning across the company and to provide employees with opportunities for growth. The burden fell to HR and other business areas to manually validate aspects of the talent cycle, such as job profile creation and skill mapping.
Cisco needed to find a solution to automate this process and began working with Burning Glass Technologies in 2018 to gain a holistic view of the skills and talent within Cisco's enterprise. Lexonis was the complementary technology which helped to provide automated feedback for job profile creation.
ALISTAIR ANTOINE LEADER People Solutions & Architecture Digital Experience CISCO
CRISTINA SARNACCHIARO Vice President Sales for Europe and UK EMSI BURNING GLASS