#NonFermartiIniziaAFormarti #PeoplePlanet – FINANZIABILITÀ&SOSTENIBILITÀ PER L'EVOLUZIONE DELLE PERSONE IN AZIENDA
*Copy and share the link to give to all the manager and colleagues of your company the opportunity to enroll to the weekly training sessions.
OCTOBER 11 – 14 / 10am-11amt – FINANZIABILITÀ&SOSTENIBILITÀ PER L'EVOLUZIONE DELLE PERSONE IN AZIENDA – #NonFermartiIniziaAFormarti #PeoplePlane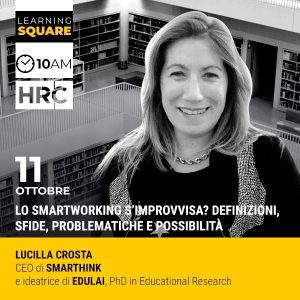 LO SMARTWORKING S'IMPROVVISA? DEFINIZIONI, SFIDE, PROBLEMATICHE E POSSIBILITÀ
L'intervento proporrà temi di discussione legati alla definizione del concetto di SmartWorking, alle competenze chiave necessarie ai lavoratori per lavorare in tale modalità, così come verranno discusse le principali sfide e problematiche che le aziende ed i lavoratori si trovano quotidianamente ad affrontare nel momento in cui si utilizza tale modello di lavoro. Saranno condivisi spunti legati a possibilità e vantaggi per l'azienda per uno SmartWorking efficace e di successo.
LUCILLA CROSTA CEO SMARTHINK e ideatrice EDULAI, PhD in Educational Research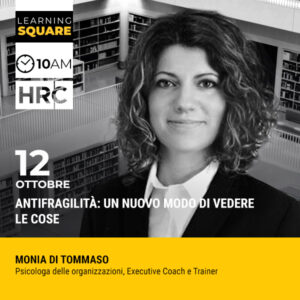 ANTIFRAGILITÀ: UN NUOVO MODO DI VEDERE LE COSE
L'antifragilità è la capacità di trasformare il limite in opportunità, di saper fronteggiare l'imprevedibilità e di trarre vantaggio dagli eventi negativi aumentando la qualità delle proprie prestazioni. A cosa serve, chi la possiede e come svilupparla saranno le domande alle quali cercheremo di rispondere in questo incontro.
MONIA DI TOMMASO Psicologa delle organizzazioni, Executive Coach e Trainer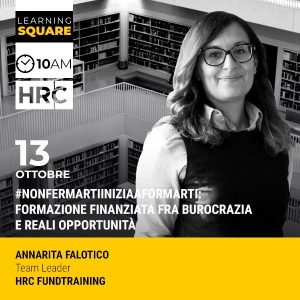 #NonFermartiIniziaAFormarti: FORMAZIONE FINANZIATA FRA BUROCRAZIA E REALI OPPORTUNITÀ
Come è cambiata la formazione finanziata durante il periodo della Pandemia e quali evoluzioni e sviluppi ci traghetteranno al new normal.
Panoramica sulle opportunità di finanziamento della formazione, analizzando la strategia e gli strumenti che i principali Fondi Interprofessionali metteranno in campo per i prossimi mesi.
ANNARITA FALOTICO Team Leader HRC FUNDTRAINING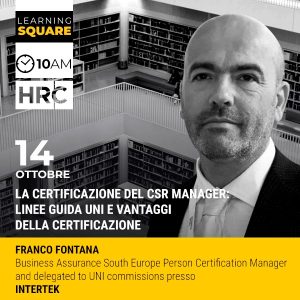 LA CERTIFICAZIONE DEL CSR MANAGER: LINEE GUIDA UNI E VANTAGGI DELLA CERTIFICAZIONE
Il Sustainability/CSR Manager riveste oggi un ruolo chiave all'interno delle organizzazioni e ha il compito di guidare l'azienda verso la sostenibilità come motore di sviluppo delle organizzazioni.
Nel 2020 nasce la prassi di riferimento per rispondere all'esigenza di avere uno strumento che definisce i requisiti relativi all'attività professionale del Sustainability/CSR Manager ossia del professionista che svolge attività di gestione a livello manageriale della sostenibilità in azienda e della responsabilità sociale d'impresa e professionista che sviluppa e gestisce a livello operativo la sostenibilità. La prassi è una bussola ormai inevitabile per le aziende che si dirigono verso la sostenibilità.
FRANCO FONTANA Business Assurance South Europe Person Certification Manager and delegated to UNI commissions INTERTEK