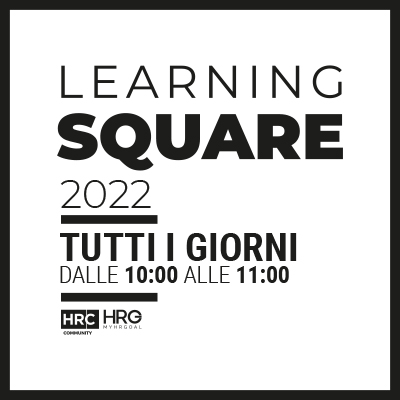 LE COMPETENZE PER IL FUTURO
*Copy and share the link to give to all the manager and colleagues of your company the opportunity to enroll to the weekly training sessions.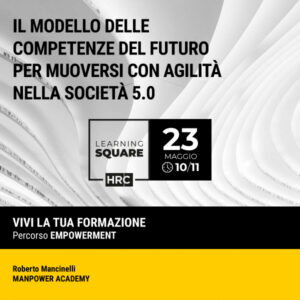 IL MODELLO DELLE COMPETENZE DEL FUTURO PER MUOVERSI CON AGILITÀ NELLA SOCIETÀ 5.0
Quali megatrend impatteranno di più sul mercato del lavoro? Quali professioni saranno confermate e emergeranno in Italia da qui al 2030? Come sostenere i processi di upskilling? L'incontro approfondisce le ricerche e gli studi internazionali di
Manpower Group per delineare le competenze chiave e distintive del futuro su cui investire nel prossimo decennio. Una riflessione strategica per essere pronti ad affrontare la sfida!
ROBERTO MANCINELLI Head of Manpower Academy MANPOWER ACADEMY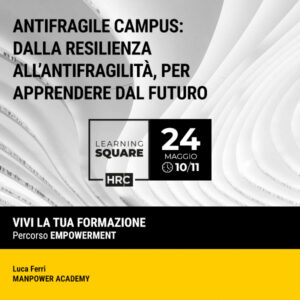 ANTIFRAGILE CAMPUS: DALLA RESILIENZA ALL'ANTIFRAGILITÀ, PER APPRENDERE DAL FUTURO SVILUPPANDO L'AUTO EFFICACIA NEL CAMBIAMENTO
Nello scenario di cambiamenti imprevedibili, non è possibile essere preparati (per definizione, si è preparati solo rispetto a ciò che già conosciamo) ma possiamo allenarci a farci trovare pronti.
Come utilizzare dunque il cambiamento anziché subirlo? Con un approccio veloce e flessibile, allenato all'incertezza e all'imprevedibilità.
Il webinar propone uno strumento pratico per utilizzare il cambiamento come palestra di crescita.
LUCA FERRI Senior Trainer e Coach MANPOWER ACADEMY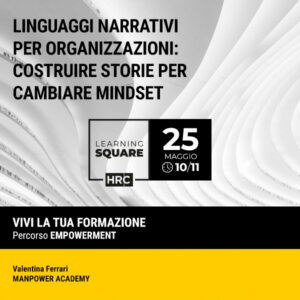 LINGUAGGI NARRATIVI PER ORGANIZZAZIONI: COSTRUIRE STORIE PER CAMBIARE MINDSET
Secondo le teorie più recenti, il linguaggio umano ha avuto origine soprattutto dall'esigenza di "raccontare". Come stanno cambiando le aziende? In che modo le parole di una narrazione rinnovata possono aiutare ad individuare percorsi di crescita e sviluppo efficaci? Serve una storia che strutturi e ristrutturi la visione aziendale, il mindset dei team di lavoro e il modello di leadership. Il webinar condurrà i partecipanti in un brevissimo viaggio fra metafore e realtà aziendale per rinnovare immagini, ipotesi, storie e significati.
VALENTINA FERRARI Senior Trainer e Coach MANPOWER ACADEMY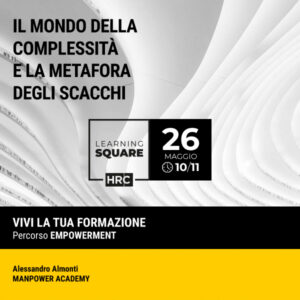 IL MONDO DELLA COMPLESSITÀ E LA METAFORA DEGLI SCACCHI
Il Mondo della gestione organizzativa ha riconosciuto ormai il sistema azienda come un sistema "Complesso", in cui i principi del management tradizionale sono ormai integrati con la teoria della complessità. Gli scacchi possono essere utilizzati come un approccio metaforico per lo studio di concetti riferibili all'ecosistema azienda. Il webinar condurrà i partecipanti nell'esplorazione della teoria della complessità e dei suoi 7 principi per dotarsi di strumenti e giocare la partita nella società 5.0!
ALESSANDRO ALMONTI Senior Trainer e Coach MANPOWER ACADEMY