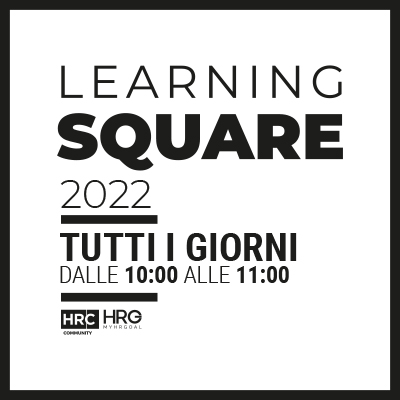 DAL BENESSERE ALLA SOSTENIBILITÀ: LE COMPETENZE PER L'EVOLUZIONE DELLA PERSONA IN AZIENDA
*Copy and share the link to give to all the manager and colleagues of your company the opportunity to enroll to the weekly training sessions.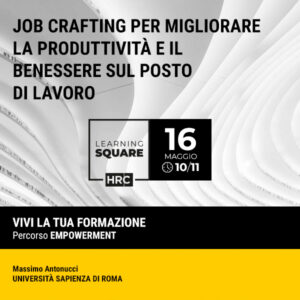 JOB CRAFTING PER MIGLIORARE LA PRODUTTIVITÀ E IL BENESSERE SUL POSTO DI LAVORO
Grazie al job crafting è possibile stimolare la produttività e il benessere sul luogo di lavoro, rendendo i propri compiti più piacevoli ed allineati con le proprie aspirazioni ed interessi. Scopriremo insieme i principi chiave di un nuovo modus operandi che intende insegnare come trarre soddisfazione dal proprio lavoro attraverso proattività e creatività.
MASSIMO ANTONUCCI Docente in Gestione delle Risorse Umane e Relazioni Industriali UNIVERSITÀ SAPIENZA DI ROMA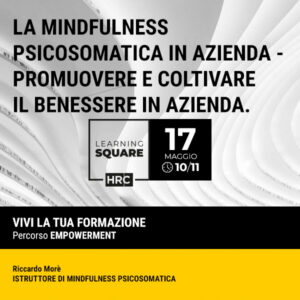 LA MINDFULNESS PSICOSOMATICA IN AZIENDA – PROMUOVERE E COLTIVARE IL BENESSERE IN AZIENDA
Uno strumento concreto, per essere più centrati e consapevoli e ottenere un incremento naturale della produttività in termini di miglioramento delle performance interne e delle dinamiche interpersonali, ottimizzando e potenziando le risorse personali individuali aumentando così il benessere psico-fisico delle persone. Attraverso le pratiche di mindfulness si può agire nell'individuo un cambiamento profondo nel modo di rapportarsi alla dimensione lavorativa: nel modo in cui le persone percepiscono il loro ruolo, la relazione con gli altri e il significato stesso del lavoro.
RICCARDO MORÈ Istruttore di Mindfulness Psicosomatica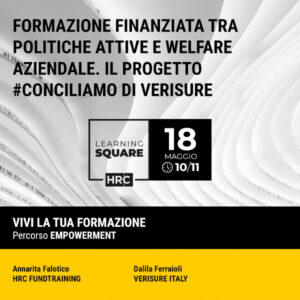 FORMAZIONE FINANZIATA TRA POLITICHE ATTIVE E WELFARE AZIENDALE. IL PROGETTO #Conciliamo di VERISURE
Come è cambiata la formazione finanziata durante il periodo della Pandemia e quali evoluzioni e innovazioni sono state messe in campo da parte dello Stato, l'ANPAL e dei Fondi interprofessionali. Panoramica sulle opportunità legate alla formazione e al welfare aziendale analizzando la strategia e gli strumenti utili a finanziare i fabbisogni di competenze e professionalità. Il Nuovo Bando #Conciliamo e il progetto finanziato di Versiure Italy.
ANNARITA FALOTICO Team Leader HRC FUNDTRAINING
DALILA FERRAIOLI HR Director VERISURE ITALY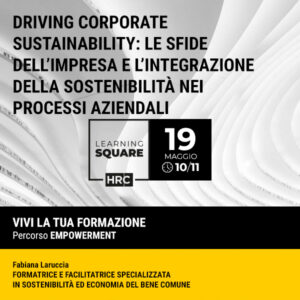 DRIVING CORPORATE SUSTAINABILITY: LE SFIDE DELL'IMPRESA E L'INTEGRAZIONE DELLA SOSTENIBILITÀ NEI PROCESSI AZIENDALI
Il 2030 non è lontano e gli obiettivi da raggiungere sono sfidanti anche in termini di cambiamento di Mindset da parte di chi in azienda guida i processi legati allo sviluppo sostenibile. Creare la cultura della sostenibilità vede come primo passo lo sviluppo delle competenze trasversali legate al tema: il pensiero sistemico, la capacità collaborativa, lo sviluppo di gruppi interfunzionali, la comunicazione mirata interna ed esterna sul tema.
Quali i pilastri di un mindset idoneo a traghettare le imprese verso una solida cultura della sostenibilità?
FABIANA LARUCCIA Formatrice e facilitatrice specializzata in sostenibilità ed economia del bene comune