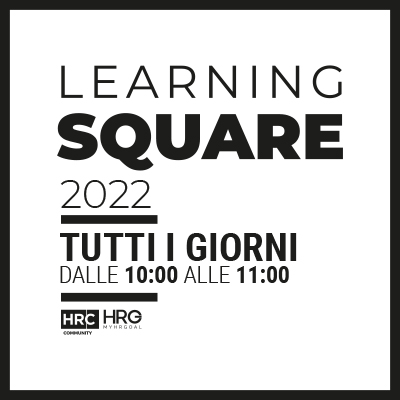 MOM EMPOWERMENT E WORK-LIFE HARMONY
*Copy and share the link to give to all the manager and colleagues of your company the opportunity to enroll to the weekly training sessions.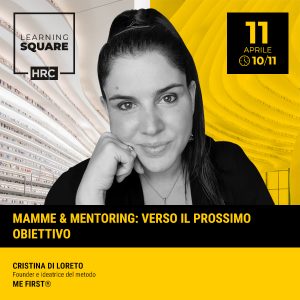 MAMME & MENTORING: VERSO IL PROSSIMO OBIETTIVO
Dopo la maternità molte donne inevitabilmente si concentrano sulla relazione madre-bambino alcune di loro faticano a riprendere in mano con energia e vitalità i propri progetti personali o professionali e faticano a progettare nuovi obiettivi. In questa learning square scoprirai come essere mentore dei tuoi figli, di te stessa ponendoti un nuovo obiettivo e come coltivare la consapevolezza che ti può attivare nella ricerca di un mentore esterno.
CRISTINA DI LORETO Founder e ideatrice del metodo ME FIRST®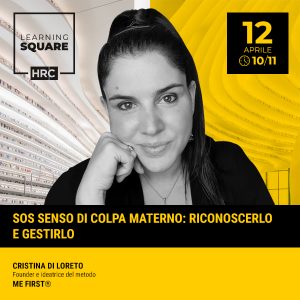 SOS SENSO DI COLPA MATERNO: RICONOSCERLO E GESTIRLO
Il senso di colpa materno è una delle principali dinamiche psicologiche in grado di ostacolare lo sviluppo di carriera o anche personale delle neomamme. Allontanarsi dai propri bambini per sviluppare sé stesse a livello personale, sociale o professionale può non essere vissuto in totale serenità. Nella learning square scoprirai quali sono le tecniche che possono essere utilizzate per riconoscere e gestire il senso di colpa materno e uno dei kit strategici del metodo Me First alleato importante di una mamma nella sua realizzazione.
CRISTINA DI LORETO Founder e ideatrice del metodo ME FIRST®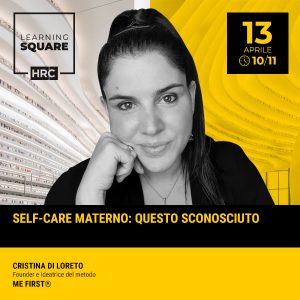 SELF-CARE MATERNO: QUESTO SCONOSCIUTO
Spesso la madre nel prendersi cura dei propri figli e del proprio ambiente finisce per trascurare sé stessa. Il periodo pandemico che ha accentuato i carichi di cura materni ha consolidato tante situazioni di esaurimento psico-fisico. Riparti da qui, in questa learning square ti verrà offerto un vero e proprio kit di ricostruzione per ricostruire momenti di self-care e il tuo benessere personale.
CRISTINA DI LORETO Founder e ideatrice del metodo ME FIRST®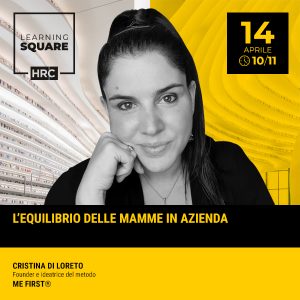 L'EQUILIBRIO DELLE MAMME IN AZIENDA
Chi ha detto che la maternità sia un punto di arrivo? Chi ha detto che le madri non possano avere progetti e ambizioni? Chi ha detto che non si possa essere madri e donne realizzate? In questa learning square scoprirai il peso dello stereotipo e del pregiudizio e le risposte che ognuna di noi può mettere in campo per alleggerire quel peso e riprendere in mano progetti e direzioni. Come stare in equilibrio e in armonia tra anime tanto differenti e cariche di responsabilità? Ne parliamo insieme in questo appuntamento.
CRISTINA DI LORETO Founder e ideatrice del metodo ME FIRST®