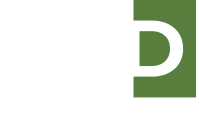 HRD SQUARE 2023
La web radio HRC
per condividere vision e strategie con i Direttori HR
Dal lunedì al giovedì | ore 17:00 – 18:00
Prendi parte al confronto!
Fatti ispirare da HR Director, Manager, Esperti, Leader e Professionisti per stare al passo con i tempi e scoprire quali sono le tematiche chiave delle organizzazioni.
Promuoviamo insieme la cultura della condivisione e del benchmarking!
Sei pronto ad alzare il volume?
La parola ai Direttori!
Rivivi le Presidenze: scarica gli HR Management Book realizzati!
LA PROGRAMMAZIONE DI HRD SQUARE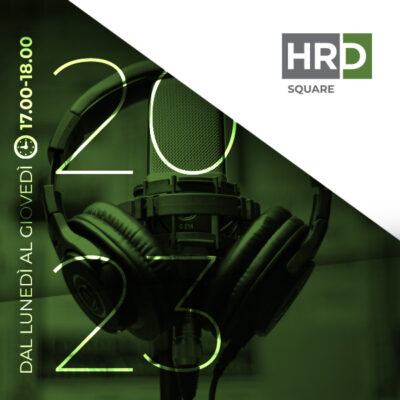 TECNOLOGIA E SOSTENIBILITÀ:
UNO SCENARIO PERVASO DA PICCOLE E GRANDI AZIONI COERENTI GUIDATE DA HR
IMPATTO CULTURALE: TRA METAVERSO E SOSTENIBILITÀ
Team di Presidenza:
Loretta Chiusoli CRIF
Alberto Piglia ENEL X
Maurizio Audizi ANIA
Alessandro Capucci SCM GROUP
Alessandra Benevolo IPSEN
Anna Maria Testa INFOCERT
Sascha Rascelli FDS
Stefano Veronesi GRUPPO ITAS

QUALI AZIONI HR HA FATTO PER RENDERE IL TEMA DELLA SOSTENIBILITÀ DI SEMPLICE COMUNICAZIONE E QUALI EFFETTI SI STANNO VERIFICANDO NELL'INTEGRAZIONE
Team di Presidenza:
Greta Autieri BAT
Simone Lazzari BDO
Ivan Livoni YOKOHAMA TWS
Giuseppina Falcucci LOTTOMATICA
Paola Dassiè NTC PHARMA
Daniela Sorrentino EMERSON

12 GIUGNO – 13 GIUGNO
PRESIDENZA a cura di BRIDGESTONE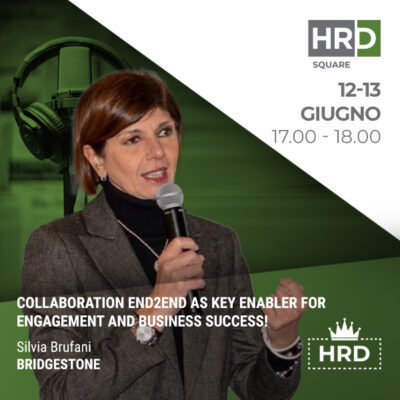 COLLABORATION END2END AS KEY ENABLER FOR ENGAGEMENT AND BUSINESS SUCCESS!
Guida ai lavori Silvia Brufani

WHY AND HOW E2E COLLABORATION INSIDE A COMPANY WILL BOOST ENGAGEMENT AND BUSINESS SUCCESS?
Team di Presidenza:
Silvia Brufani BRIDGESTONE
Giovanni Airoldi GORI
Cristina Danelatos GRUPPO MONTENEGRO
Paola Dassiè NTC PHARMA
Andrea Marchesini RGI
Mariella Gioia FLAMMA GROUP
BLUE COLLAR AND CULTURE OF COLLABORATION: HOW TO LEARN AND BE ENGAGED
Team di presidenza:
Silvia Brufani BRIDGESTONE
Matteo Costa BAT
Alessandro Megaro Yokohama TWS
Elisa Cristadoro PROMETEON
Fabiana Verde BIRRA PERONI
Andrea De Paulis FIDIA FARMACEUTICI
Alessandro Mancini DHL SUPPLY CHAIN
Giovanni Di Muoio BNL BNP PARIBAS
Giovan Battista Piccirillo ERICSSON
Luca Mattana COMDATA
Filippo Cecchitelli POLIGRAFICO E ZECCA DELLO STATO ITALIANO
Federico Valtolina ABB
Lucio Tubaro BTICINO
Matteo Butturi COCA-COLA HBC
14 GIUGNO – 15 GIUGNO
PRESIDENZA a cura di GRUPPO MONTENEGRO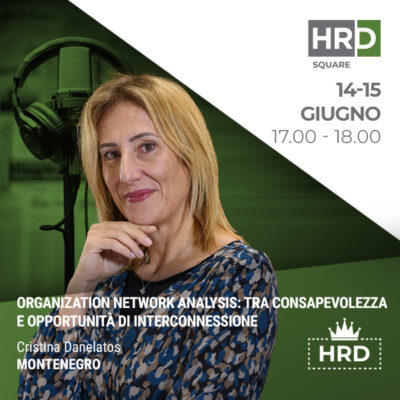 ORGANIZATION NETWORK ANALYSIS: TRA CONSAPEVOLEZZA E OPPORTUNITÀ DI INTERCONNESSIONE
Guida ai lavori Cristina Danelatos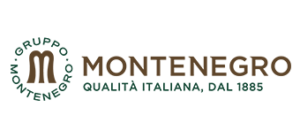 LE ORGANIZZAZIONI INCONSAPEVOLI CHE AGISCONO DIETRO UN SISTEMA/MODELLO "GERARCHICO" SOLO SULLA CARTA. QUALI OPPORTUNITÀ COGLIERE?
Team di Presidenza:
Cristina Danelatos GRUPPO MONTENEGRO
Francesco Rotundo D'AMICO SHIPPING GROUP
Ivan Livoni Yokohama TWS
Alessandro Crippa CAMPARI
Micaela Di Giusto GRUPPO PITTINI
Luisa Martino CEVA LOGISTCS
Luca Cinquetti ILIAD
Luca Mattana COMDATA

DALLA COERENZA ALLA CONTINUITÀ DI AZIONE PER CONTAMINARE GLI STAKEHOLDER NEL PROCESSO DI INCLUSIONE
Team di Presidenza:
Cristina Danelatos GRUPPO MONTENEGRO
Elisetta Turci A2A
Simona Piva FINDOMESTIC BANCA
Sara Taddeo BOSTON CONSULTING GROUP
Valeria Ferreri FLEX
Marco Garibaldi DOVALUE
Francesca Giraudo EY
Antonio Amodeo ACQUE
Andrea Cavallotti EXPRIVIA
Sascha Rascelli FDS
Massimo De Bari ELETTRONICA
Stefano Savini EMILBANCA

19 GIUGNO – 20 GIUGNO
PRESIDENZA a cura di FIDIA FARMACEUTICI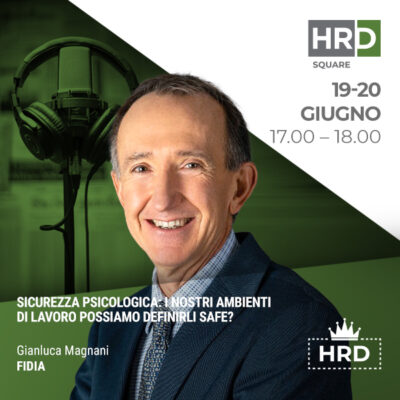 SICUREZZA PSICOLOGICA: I NOSTRI AMBIENTI DI LAVORO POSSIAMO DEFINIRLI SAFE?
Guida ai lavori Gianluca Magnani FIDIA FARMACEUTICI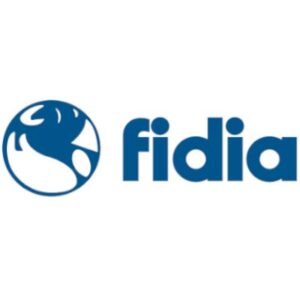 COME LA SICUREZZA PSICOLOGICA ALL'INTERNO DEL TEAM GARANTISCE UN LIVELLO DI FIDUCIA TALE DA CONSENTIRE DI IMPARARE TANTO DAI PROPRI ERRORI QUANTO DAI PROPRI SUCCESSI?
Team di Presidenza:
Gianluca Magnani FIDIA FARMACEUTICI
Dino Torrisi FUTUREBERRY
Fabiana Carioli GRENKE
Federico Scarsi VARGAS HOLDING
Antimo Ricciardi ALMIRALL
Franco Morelli AIG
Marta Signore DENTSU
Mariarosaria Carlesimo ENTAIN

COME STATE LAVORANDO SULLA DIMENSIONE COLLETTIVA PER COSTRUIRE UN HIGH PERFORMANCED TEAM?
Team di Presidenza:
Gianluca Magnani FIDIA FARMACEUTICI
Massimiliano Fiorelli MODULA
Greta Autieri BAT
Roberta Francavilla ORIGINAL MARINES
Giuseppe Mantegna RENAULT
Sara Razzicchia ORGANON ITALIA
Giovanna Conzi REALE GROUP
Carlo Calderone FM LOGISTICS
Andrea Marchesini RGI
21 GIUGNO – 22 GIUGNO
PRESIDENZA a cura di DIESSE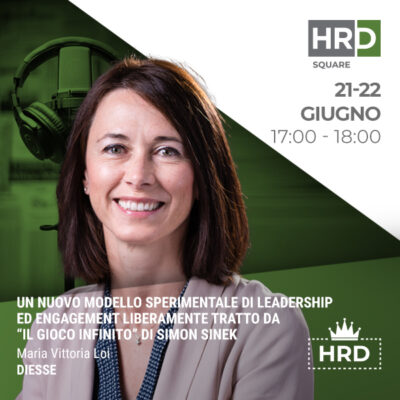 UN NUOVO MODELLO SPERIMENTALE DI LEADERSHIP ED ENGAGEMENT LIBERAMENTE TRATTO DA "IL GIOCO INFINITO" DI SIMON SINEK
Guida ai lavori Maria Vittoria Loi DIESSE

COS'È "IL GIOCO INFINITO" E COME PUÒ IMPATTARE SUL MODELLO DI LEADERSHIP
Team di Presidenza:
Maria Vittoria Loi DIESSE
Michelangelo Ceresani CAPGEMINI
Micaela Di Giusto GRUPPO PITTINI
Fabrizio Rauso SOGEI
Francesca Rubino IBI LORENZINI
Valerio Vitolo NOMAD FOODS
Mauro Ghilardi A2A
Moira Fassari NORTHROPGRUMMAN
Vincenzo Cozzolino LEONARDO

L'ENGAGEMENT NEL CONTESTO DI UN "GIOCO INFINITO" E DELLA GIUSTA CAUSA
Team di Presidenza:
Maria Vittoria Loi DIESSE
Federico Maracci ALMAVIVA
Andrea Montuschi QUALTRICS
Simone Lazzari BDO
Gian Luca Orefice AUTOSTRADE
Riccardo Meloni SPORT E SALUTE
Michele Mannella SARA ASSICURAZIONI S
Serena Rossi STRYKER
Anna Maria Testa INFOCERT
Adolfo Criscuolo PROMETEON
Maria Grazia Bizzarri ITALIAONLINE