COMMUNITY
EMPLOYER BRANDING & TALENT ACQUISITION
The meeting room for Employer Branding & Talent Acquisition Managers
**Clicking INVITE YOUR HR MANAGERS you will have access to the draft email for sending them the invitation to join HRC Square.
Enjoy the Community, see you in HRC Square!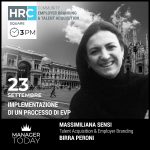 IMPLEMENTAZIONE DI UN PROCESSO DI EVP
MANAGER TODAY:
Massimiliana Sensi BIRRA PERONI
SPEAKERS:
Valentina Bresciani ENGIE
Eliseo Giannoccaro BORGO EGNAZIA
TECHNICAL PARTNER:
Andrea Benedeti e Manuela Marinosci START HUB CONSULTING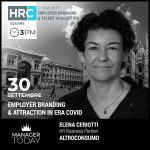 EMPLOYER BRANDING & ATTRACTION IN ERA COVID
MANAGER TODAY:
Elena Ceriotti ALTROCONSUMO
SPEAKERS:
Ivan Livoni TRELLEBORG WHEEL SYSTEMS
Silvia Brufani BRIDGESTONE EMIA
TECHNICAL PARTNER:
Gianluca Bonacchi INDEED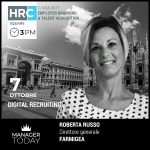 MANAGER TODAY:
Roberta Russo FARMIGEA
SPEAKERS:
Maria Grazia Lotito CASILLO GROUP
Gastone Grasso Terragni  EDISON
Francesca Deidda BAKER HUGHES
TECHNICAL PARTNER:
Andrea Pedrini CLEVERCONNECT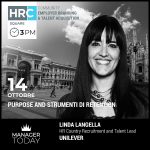 PURPOSE & STRUMENTI DI RETENTION
MANAGER TODAY:
Linda Langella UNILEVER
SPEAKERS:
Marco Scippa ANGEL COMPANY
Carlo Giuffrida GRUPPO IVAS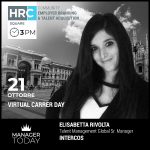 MANAGER TODAY:
Elisabetta Rivolta INTERCOS
SPEAKERS:
Cristiana Pivetti FINCONS
TECHNICAL PARTNER:
START HUB CONSULTING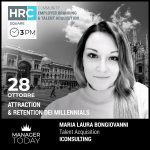 ATTRACTION & RETENTION DEI MILLENNIALS
MANAGER TODAY:
Maria Laura Bongiovanni ICONSULTING
SPEAKERS:
Agata Kepa ROTORK
Camilla Galtieri BOSCH BARI
Ferdinando Pastrello FONDAZIONE CARIPLO
TECHNICAL PARTNER:
Arianna Palano IL PRISMA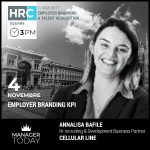 MANAGER TODAY:
Annalisa Bafile CELLULAR LINE
TECHNICAL PARTNER
Andrea Pedrini CLEVERCONNECT ITALIA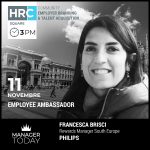 MANAGER TODAY:
Francesca Brisci PHILIPS
SPEAKERS:
Marina Oppicini COSTA CROCIERE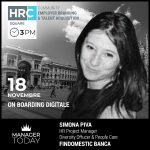 MANAGER TODAY:
Simona Piva FINDOMESTIC BANCA
SPEAKERS:
Stefano Tremolada MASHFROG
Lorena Pola SIEMENS
Stefania Battaglino EDISON
Giulia Bonsignore GRENKE
TECHNICAL PARTNER:
Daniele Davoli ADDICTION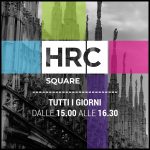 MANAGER TODAY:
COESIA
SPEAKERS:
Noemi Montaruli FSI
Letizia Mascheroni SIEMENS
Simone Rizza CAVAGNA GROUP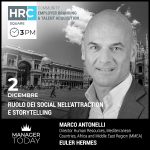 RUOLO DEI SOCIAL NELL'ATTRACTION E STORYTELLING
MANAGER TODAY:
Marco Antonelli EULER HERMES S.A.
SPEAKERS:
Marina Oppicini COSTA CROCIERE