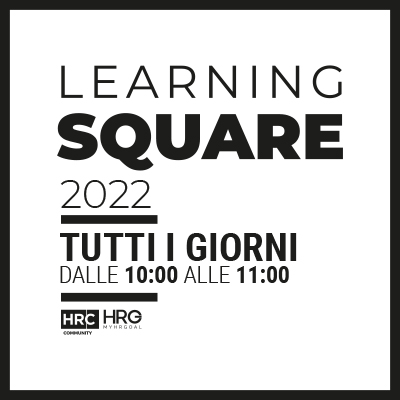 COVID E SALUTE PSICOLOGICA: RITORNO AL BENESSERE
*Copy and share the link to give to all the manager and colleagues of your company the opportunity to enroll to the weekly training sessions.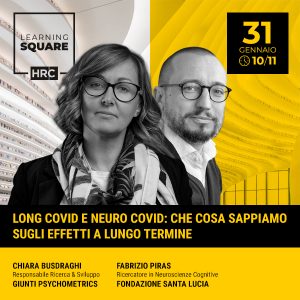 RICOMINCIAMO: RIPARTIRE E RAGGIUNGERE I PROPRI OBIETTIVI, SEMPRE
L'autore di Fattore 1% – piccole abitudini per grandi risultati e L'era del cuore – come trovare il coraggio di essere felici (Giunti Editore) ci aiuta ad affrontare positivamente la "ripartenza" di cui tanto si parla in riferimento all'uscita dalla pandemia. Psicologo, psicoterapeuta, mental coach e divulgatore di teoria e pratica del cambiamento individuale, con video, libri e corsi ha aiutato decine di migliaia di persone a vivere al meglio la propria vita.
NICOLETTA BOTTI Senior Account Manager GIUNTI PSYCHOMETRICS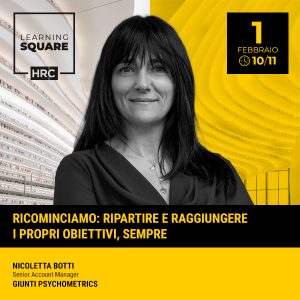 LA FINE DEI CAPI? FIDUCIA, DELEGA DIFFUSA E AUTONOMIA DEI COLLABORATORI NEL LAVORO DA REMOTO
La diffusione capillare e planetaria del lavoro da casa ha accentuato il tema della gestione delle squadre diffuse. Nell'emergenza Covid-19, le seconde e terze linee aziendali hanno dovuto virare verso un'assunzione di responsabilità individuale mai vista prima. Decisioni autonome, delega e fiducia hanno sostituito i classici processi gerarchici legati al controllo, e ogni dipendente è un po' diventato "manager di sé stesso": come trattare ora i "follower" diventati "leader"? E i capi, ci servono ancora?
CLAUDIO MENNINI Chief Revenue Officer GIUNTI PSYCHOMETRICS
CHIARA BUSDRAGHI Responsabile Ricerca & Sviluppo GIUNTI PSYCHOMETRICS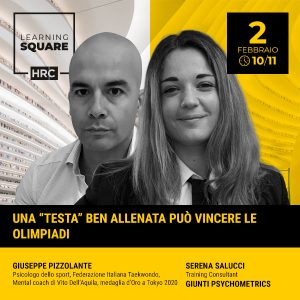 UNA "TESTA" BEN ALLENATA PUÒ VINCERE LE OLIMPIADI
Forse mai come nelle Olimpiadi di Tokyo2020, gli atleti hanno fatto riferimento e ringraziato i loro "allenatori della mente", spesso attribuendo a una cattiva condizione di spirito i risultati più deludenti. Anche nella narrazione sul benessere organizzativo, sempre più rilevanza è accordata alla salute psicologica e al suo ruolo nel determinare la prestazione, soprattutto in un contesto incerto, mutevole e "minaccioso" come quello di oggi.
GIUSEPPE PIZZOLANTE Psicologo dello sport, Federazione Italiana Taekwondo, Mental coach di Vito Dell'Aquila, medaglia d'Oro a Tokyo 2020
SERENA SALUCCI Training Consultant GIUNTI PSYCHOMETRICS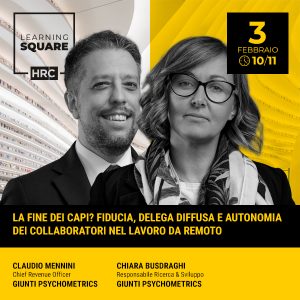 LONG COVID E NEURO COVID: CHE COSA SAPPIAMO SUGLI EFFETTI A LUNGO TERMINE?
In quasi 2 anni, la pandemia di COVID19 ha contagiato diversi milioni di persone in tutto il mondo. La sua diffusione ha permesso di studiarne le manifestazioni, dalle più gravi, principalmente a carico dell'apparato respiratorio, alle sindromi più persistenti e non meno pericolose, rappresentate dalla componente neurologica. Facciamo il punto sugli effetti a lungo termine e le ricadute sulla vita aziendale.
CHIARA BUSDRAGHI Responsabile Ricerca & Sviluppo GIUNTI PSYCHOMETRICS
FABRIZIO PIRAS Ricercatore in Neuroscienze Cognitive FONDAZIONE SANTA LUCIA