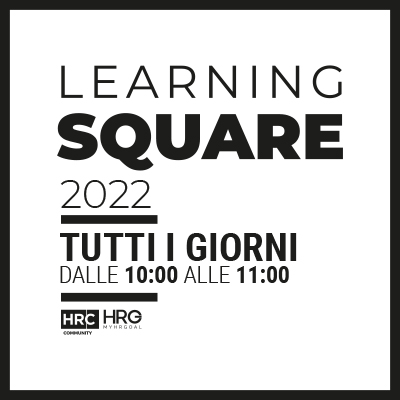 COMPETENZE MANAGERIALI STRATEGICHE
*Copy and share the link to give to all the manager and colleagues of your company the opportunity to enroll to the weekly training sessions.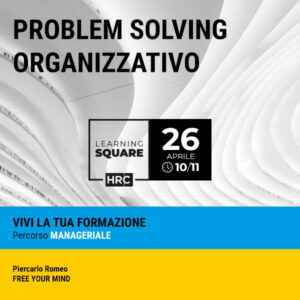 PROBLEM SOLVING ORGANIZZATIVO
In un mondo sempre più complesso le abilità di problem solving sono sempre più richieste, soprattutto a livello manageriale. Ma Problem Solving non è il semplice e semplicistico "pensare solo alle soluzioni", ma va ben oltre, con protocolli, strumenti e sequenze logiche testate e ben strutturate.
PIERCARLO ROMEO Formatore e Coach FREE YOUR MIND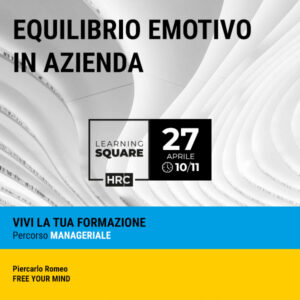 EQUILIBRIO EMOTIVO IN AZIENDA
Le emozioni guidano molti dei nostri comportamenti, anche nel mondo del lavoro e in azienda: relazioni, decisioni, interazioni. Conoscere le emozioni, sviluppare intelligenza ed equilibrio emotivo è e sarà sempre più importante e centrale nello sviluppo professionale e personale dell'individuo e, di conseguenza, delle organizzazioni.
PIERCARLO ROMEO Formatore e Coach FREE YOUR MIND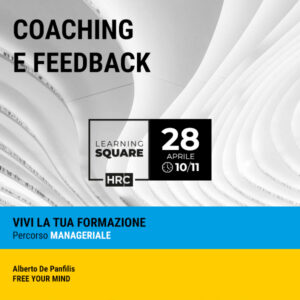 COACHING E FEEDBACK
Quanto è importante il feedback nel Coaching? E quanto è importante saper fare da Coach dopo aver dato un feedback migliorativo? E quanto è importante la cultura del feedback nei percorsi di Coaching? In questa sessione scopriremo l'importanza di saper chiedere, ricevere, dare e verificare feedback in percorsi di coaching manageriali.
ALBERTO DE PANFILIS Formatore e Coach FREE YOU MIND