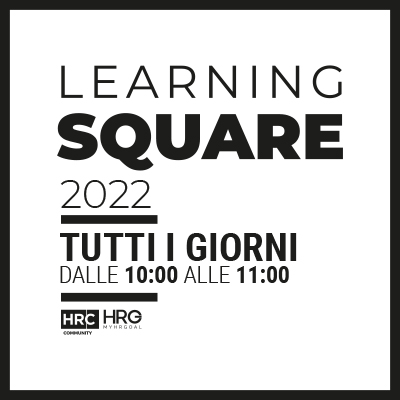 LEADERSHIP DELLE EMOZIONI
*Copy and share the link to give to all the manager and colleagues of your company the opportunity to enroll to the weekly training sessions.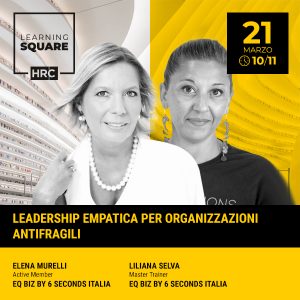 LEADERSHIP EMPATICA PER ORGANIZZAZIONI ANTIFRAGILI
L'evoluzione trae vantaggio da momenti di estrema discontinuità. Qual è però l'impatto di questi "scossoni" sulle organizzazioni di oggi? Come reagiscono le persone a tali situazioni di trasformazione? In una cornice di questo tipo, le competenze del leader devono cambiare affinchè i sistemi aziendali diventino antifragili. L'antifragilità permette infatti di trarre vantaggio dagli imprevisti crescendo, migliorando, rafforzandoci. Quali sono allora le competenze dell'Intelligenza Emotiva che occorre allenare per raggiungere l'obiettivo?
ELENA MURELLI Active Member EQ BIZ BY 6 SECONDS ITALIA
LILIANA SELVA Master Trainer EQ BIZ BY 6 SECONDS ITALIA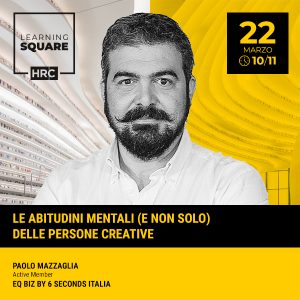 LE ABITUDINI MENTALI (E NON SOLO) DELLE PERSONE CREATIVE
Spesso in azienda, durante riunioni creative, si chiede alle persone di pensare "fuori dal box". Bell'idea. Ma chiederlo non significa che succederà. Questo perché la creatività non è solo tecnica ma anche attitudine! Come fare quindi a coltivare l'attitudine creativa che ti consenta di essere un valido contributore alla famosa riunione? In questo webinar scopriremo alcune abitudini che praticate allenano la nostra intelligenza emotiva e la nostra capacità di essere creativi per poi scatenarla quando serve.
PAOLO MAZZAGLIA Active Member EQ BIZ BY 6 SECONDS ITALIA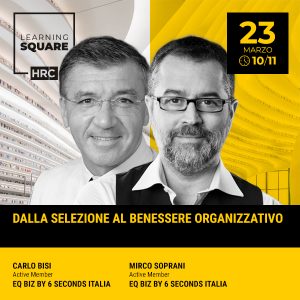 DALLA SELEZIONE AL BENESSERE ORGANIZZATIVO
Nel contesto che le organizzazioni si trovano ad affrontare oggi, il benessere dei dipendenti deve necessariamente essere messo al centro per la sopravvivenza stessa del sistema. Abbiamo sicuramente bisogno di leader capaci di affrontare scenari complessi, con chiaro in testa il proprio obiettivo nobile ma questi leader hanno bisogno di essere inseriti all'interno di un sistema azienda dotato di processi orientati all'Intelligenza Emotiva, a partire dalla selezione. Cosa fare perché accada? Lo scopriremo insieme.
CARLO BISI Active Member EQ BIZ BY 6 SECONDS ITALIA
MIRCO SOPRANI Active Member EQ BIZ BY 6 SECONDS ITALIA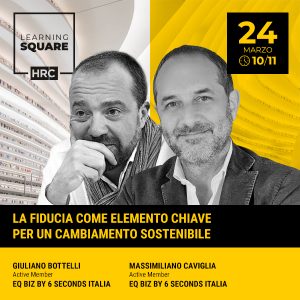 LA FIDUCIA COME ELEMENTO CHIAVE PER UN CAMBIAMENTO SOSTENIBILE
In un'era complessa segnata da una costante evoluzione tecnologica, in un contesto in cui il cambiamento è una condizione da navigare e non solo un passaggio momentaneo, gli aspetti emotivo-relazionali rappresentano la dimensione chiave da coltivare, con un focus speciale sulla dimensione della fiducia. Scopri allora come l'Intelligenza Emotiva, attraverso la sua misurabilità (People Analytics) e allenabilità, generi le condizioni che favoriscono, nell'organizzazione, fiducia, affidabilità e propensione al cambiamento.
GIULIANO BOTTELLI Active Member EQ BIZ BY 6 SECONDS ITALIA
MASSIMILIANO CAVIGLIA Active Member EQ BIZ BY 6 SECONDS ITALIA