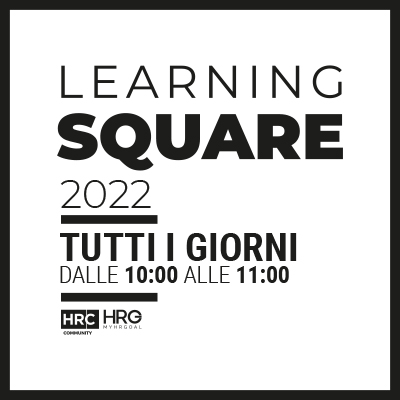 SI PARLA TANTO DI SOSTENIBILITÀ: COME AGIRLA?
*Copy and share the link to give to all the manager and colleagues of your company the opportunity to enroll to the weekly training sessions.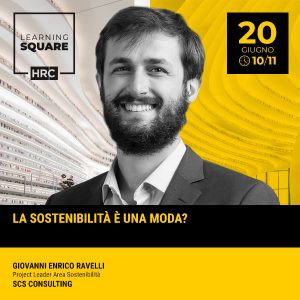 LA SOSTENIBILITÀ È UNA MODA?
Si sta parlando da tempo di sostenibilità ma quali sono i trend prevalenti, i benefici, le dinamiche che portano ad un reale e concreto agire sostenibile? Come gestire i dilemmi di business, operativi e nei comportamenti per pervenire ad uno sviluppo sostenibile, senza cadere nel green washing e nel pink washing?
GIOVANNI RAVELLI Project Leader Area Sostenibilità SCS CONSULTING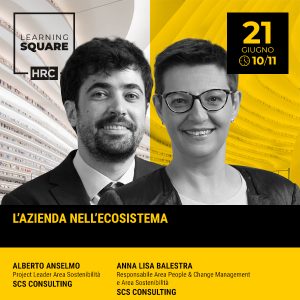 L'AZIENDA NELL'ECOSISTEMA
Le organizzazioni sole non sono più in grado di gestire innovazione, sviluppo sostenibile, dinamiche di incertezza. È necessario relazionarsi in maniera attiva con i primi stakeholder, dipendenti, clienti, fornitori per puntare ad un tangibile valore condiviso.
ALBERTO ANSELMO Project Leader Area Sostenibilità SCS CONSULTING
ANNA LISA BALESTRA Responsabile Area People & Change Management e Area Sostenibilità SCS CONSULTING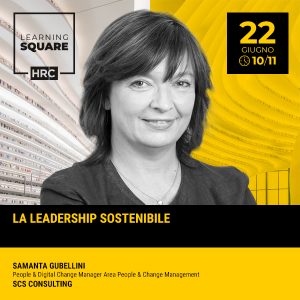 LA LEADERSHIP SOSTENIBILE
Si è sempre parlato di modelli di leadership adeguati al contesto storico di riferimento. Sicuramente ora è il momento della leadership sostenibile, ma di cosa si parla nella pratica? Chi è un leader sostenibile? Quali comportamenti adotta? Ovviamente non stiamo parlando solo dei responsabili, ma di una leadership diffusa!
SAMANTA GUBELLINI People & Digital Change Manager Area People & Change Management SCS CONSULTING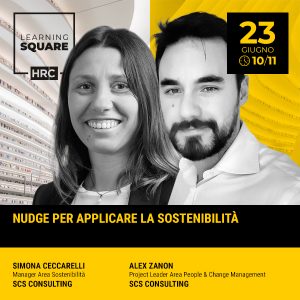 NUDGE PER APPLICARE LA SOSTENIBILITÀ
Per applicare la sostenibilità nel business, nei processi e nei comportamenti non serve più il paternalismo, è rischioso anche un impianto regolatorio troppo stringente, così come anche parlare solo di valori rischia di essere "divisivo". Si deve ragionare in termini di "architettura delle scelte" e di "behavioral interventions", vi spiegheremo come.
SIMONA CECCARELLI Manager Area Sostenibilità SCS CONSULTING
ALEX ZANNON Project Leader Area People & Change Management SCS CONSULTING