COMMUNITY
WELFARE
& COMPENSATION
The meeting room for Welfare & Compensation Managers
**Clicking INVITE YOUR HR MANAGERS you will have access to the draft email for sending them the invitation to join HRC Square.
Enjoy the Community, see you in HRC Square!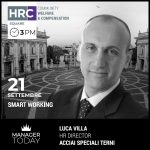 SMART WORKING IN ERA COVID
MANAGER TODAY:
Luca Villa ACCIAI SPECIALI TERNI
SPEAKERS:
Donatella De Vita PIRELLI
Antonio Andreotti IREN
TECHNICAL PARTNER:
Francesco Bartolotta STUDIO TOFFOLETTO DE LUCA TAMAJO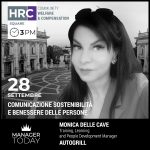 COMUNICAZIONE, SOSTENIBILITÀ  E BENESSERE DELLE PERSONE
MANAGER TODAY:
Monica Delle Cave AUTOGRILL
SPEAKERS:
Simona Pietrasanta JAKALA
Simona Piva FINDOMESTIC BANCA
Elena Michieli LEVI'S
TECHNICAL PARTNER:
Eleonora Gianoli HOLIBREAK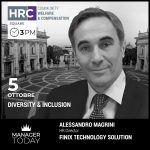 MANAGER TODAY:
Alessandro Magrini FINIX TECHNOLOGY SOLUTION
SPEAKERS:
Consuelo Battistelli IBM
Fabiola Felici SACE
TECHNICAL PARTNER:
Gianlorenzo Sosso JOINTLY-IL WELFARE CONDIVISO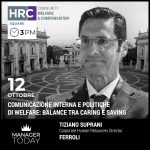 COMUNICAZIONE INTERNA E WELFARE: BALANCE TRA CARING E SAVING
MANAGER TODAY:
Tiziano Suprani GRUPPO FERROLI
SPEAKERS:
Alessandro Liguori ADR
TECHNICAL PARTNER:
Paolo Schipani WELFARECOMETE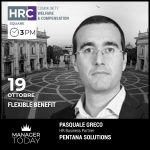 MANAGER TODAY:
Pasquale Greco PENTANA SOLUTIONS
SPEAKERS:
Francesco Tartaglia EULER HERMES
Antonio Labate SONY MUSIC ENTERTAINMENT ITALY
Marco Pierini GROUPAMA
TECHNICAL PARTNER:
Andrea Verani DOUBLEYOU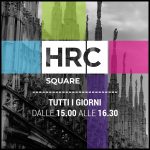 WELFARE, FLESSIBILITÀ E SMART WORKING
MANAGER TODAY:
Dania Lombardi MITSUBISHI ELECTRIC EUROPE B.V.
SPEAKERS:
Matteo Giglio ELT
Filippo Palombini TPER
TECHNICAL PARTNER:
Emanuele Aloise FITPRIME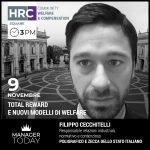 TOTAL REWARD E NUOVI MODELLI DI WELFARE
MANAGER TODAY:
Filippo Cecchitelli POLIGRAFICO E ZECCA DELLO STATO ITALIANO
SPEAKERS:
Filippo Palombini TPER
Maurizio Martucci ITALGAS
Sonia Tramontana HAIER EUROPE
TECHNICAL PARTNER:
GENERALI WELION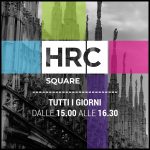 WELFARE COME LEVA DI ATTRACTION E RETENTION DELLE NEW GENERATION
MANAGER TODAY:
Paolo De Vincentiis SGB HOLDING
SPEAKERS:
Silvia Fabbri IEG
Luca Riso TOYOTA MOTOR ITALIA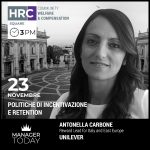 POLITICHE DI INCENTIVAZIONE E RETENTION
MANAGER TODAY:
Antonella Carbone UNILEVER
SPEAKERS:
Claudio Varani TIM
Federica Di Lauro ITALGAS
Alessandra Proietti Semproni ENEL
TECHNICAL PARTNER:
GENERALI WELION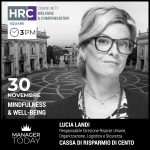 MANAGER TODAY:
Lucia Landi CR CENTO
SPEAKERS:
Marco Tagliaferri MUNDIPHARMA
Simona Irosa INTERNATIONAL PAPER
TECHNICAL PARTNER:
Eleonora Gianoli HOLIBREAK